Welcome to Michigan!
This is a short guide to many of the IT services and resources available to undergraduate and graduate students while at Michigan.
As a member of the U-M community, you automatically receive standard computing services, which includes email, printing allotments, online storage options and more.
Get Connected and Stay Connected
Campus Computing Sites & Technology Resources
Campus Computing Sites
Campus Computing Sites have more than 2,000 Windows and Mac machines, laser printers, scanners, and instructional and training materials. All Sites (excluding most of the cyberstations) provide black and white laser printing, and several provide color or large format printing.
Find a Sites Location
Sites computers and print-only stations are located in convenient locations around campus.
17 general use Sites on Central Campus
4 general use Sites on North Campus
100+ cyberstation locations around campus in study lounges, dining areas, collaboration, and social spaces.
View the map of the Campus Computing Sites to see the software, and printing options are available at each location.
Tech Consulting
Get help with standard computing services and Sites-related computing questions.
Locations
Tech Repair
Computer Showcase - Michigan Union: 734-763-6181
Computer Showcase - Pierpont Commons: 734-763-3966
For help with:
Virus remediation and software troubleshooting
Software and hardware installations and upgrades
Data backups and transfers
Full warranty and out-of-warranty repairs for Apple, Dell and HP computers
Virtual Sites
Access software on Campus Computing Sites Windows workstations from any Mac or Windows computer with an internet connection. The service is available 24 hours a day, 7 days a week.
MPrint
Use MPrint to send documents to any networked Campus Computing Sites printer from any computer or mobile device! Visit MPrint online for a directory of printers and print-only computers on campus.
Knox Center Adaptive Technology Computing Site
Shapiro Library
734-936-3794
Specializes in hardware and software that meets the needs of people with temporary or permanent disabilities.
ResComp
Technology Support for U-M Housing Residents
Provides the necessary tools and resources for residents to successfully use technology in the residence halls.
Community Learning Centers (CLCs)
Study in comfortable community areas equipped with computer workstations. Located in each residence hall, these common areas are designed for group work and individual study.
Computer Showcase
Shapiro Library & Pierpont Commons
computer.showcase@umich.edu
734-647-2537
Pick your computers, tablets, software and other essential tech accessories at great academic prices. Browse the product catalog online or stop in one of our two locations.
Get Help
ITS Service Center
734-764-HELP (4357)
For help with ALL your campus computing and technology questions, including:
MWireless
Canvas
Computing accounts
Uniqname and password
MaizeLink
Wolverine Access
Billing inquiries
Much more!
Online Resources & Services
Collaboration Capabilities
MCommunity
Use the MCommunity online directory to find contact information and more for all members of the U-M community. Visit MCommunity to:
Update your directory profile.
Forward your

U-M

email to a different address.
Create and manage email groups.
Safe Computing
Visit the Safe Computing website for security best practices to protect your computer, mobile devices, data, and your identity.
Choosing and Changing a Safe and Secure UMICH Password
Set up account recovery preferences to reset your password if you forget it.
Connect to WiFi with MWireless
MWireless is the fastest, most secure WiFi on campus, available in most university buildings and residence halls.
Use MSetup to configure your devices for MWireless and eduroam.
Visitors to campus can use MGuest, a limited WiFi network that does not require a uniqname and password.
Internet in Residence Halls
MWireless and ethernet connections are available in the residence halls. Check out the ResComp website or Northwood Net website for more information and to find out what supplies you'll need to connect.
Avoid using personal devices like WiFi routers and printer that broadcast their own network. Such items degrade the shared campus network.
Use a wired connection when possible. Wired connections are always faster than WiFi connections. Using a wired connection frees up space on campus
WiFi networks for others who need it.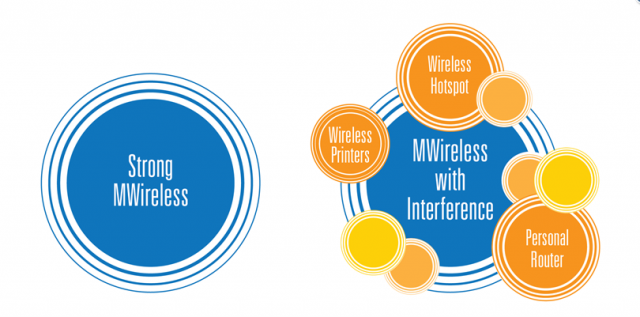 Discover campus resources to support your academics, health, career, and more
One-click access to your grades, class schedule, backpacking/registration, account balance, and other important info
Quick access to Canvas course pages
Register for classes, view schedules, transcripts, and financial aid information.
Edit your personal and employment information.
Create a Friend Account to share financial aid, billing, and more with parents and others.
Michigan App & Mobile Apps Center
Look up class schedules, check the Magic Bus schedule, stay in touch with the latest U-M news and events, and much more! The Michigan App is available in the Apple App Store and Google Play.