What does it mean to be a Good WiFi Citizen?
Using MWireless is sort of like what Peter Parker's uncle said: "With great power, comes great responsibility." (Okay, French majors, we know Voltaire said it first.)
It may not be obvious at first, but what you do when you're in your residence halls or walking around on campus can affect MWireless' performance for those around you. Setting up your own WiFi hotspot or router will make sure nobody wins—cooperation and good etiquette is necessary for everyone to get the connection they need! This is what being a good WiFi citizen is all about.
The appropriate use of the university information resources is delineated in SPG 601.07 "Responsible Use of Information Resources" and you are responsible for complying with these policies and standards.
Earn your Good WiFi Citizen Cred
​Your Good WiFi Citizen Recommendations and Best Practices
Choose your connection wisely
Use MWireless
It's the fastest and most secure wireless network available. MGuest is a less secure, limited network. It is for visitors without university credentials. eduroam can be used by visitors from other institutions that also use eduroam.

Don't use personal WiFi routers or hotspots
When you introduce another wireless signal that competes with MWireless, you can create a negative wireless experience for everyone.

For IT staff: Before you consider using personal WiFi routers or hotspots, please open an ITS support ticket and include in the summary that it's for "Department/Personal WiFi Routers/Hotspots".

Wired connections have benefits
Wired connections have a more reliable connection than WiFi. In the case of gaming, wired connection offers much lower latency. You can connect your game consoles and streaming media players (like a Roku or Apple TV) to the Internet via a wired connection.
Stop sending mixed signals
Don't set up your printer's WiFi direct connection in your office or residence hall room
By setting up direct WiFi printing, your printer will broadcast signals that interfere with MWireless. Instead, use a USB or ethernet to connect to your printer.

Unexpected WiFi interferences
WiFi signals, including MWireless, can be negatively affected by a surprising number of regular things. Microwave ovens, cordless telephones, wireless audio speakers, and wireless gaming console controllers can use the same spectrum as the campus WiFi network and can cause the network signal to deteriorate.
Note: While WiFi clients that connect to the campus network do not cause an issue, WiFi devices that are independent of the campus WiFi network (as well as non-WiFi devices) could cause issues to the campus WiFi network.
This chart identifies devices whose frequencies can disrupt MWireless and offers solutions to help reduce their impact.
Devices
Impact
Range
Suggested Solution
Microwave Ovens

Very Severe

Short
Keep microwaves away from computers.
WiFi Routers
Severe

Very Long

Use MWireless, refrain from using your own router.
Cameras and Projectors, Media Players, Speakers, and Gaming Controllers (WiFi and non-WiFi)
Severe
Very Long
Disable Wireless, use wired devices/ connections.
Media Players (WiFi and non-WiFi )
(Apple TV, Roku, Chromecast, etc.)
Severe
Long
Disable device's wireless, connect via cables.
WiFi Printers
Severe
Medium
Disable wireless, connect directly via USB cable.
Speakers (WiFi and non-WiFi)
Severe
Medium
Use wired Speakers.
WiFi Gaming Controllers
Severe
Short
Keep devices powered off when not in use.
Bluetooth Devices
Medium
Short
Keep devices powered off when not in use.
Certain Computer Displays
Medium
Short
Powered off monitor when not in use.
Why do personal routers, wireless hotspots and other devices affect MWireless?
All wireless access points (APs) or routers in U-M buildings need to work together so they do not occupy the same channel. U-M carefully designs and operates the WiFi networks in each building to allow multiple U-M access points to work with each other to provide a reliable and stable WiFi environment. When someone sets up their own wireless router, it deteriorates the network. In the tech industry, we call unauthorized personal routers "rogue APs."
Depending on the number of rogue APs, the U-M APs must spend time and energy trying to find a free channel rather than providing a clear, usable signal for everyone to use. In addition, when two access points try to communicate to the same WiFi devices on one channel, their signals interfere with each other and cause connectivity problems for everyone trying to use MWireless, MGuest, or eduroam.
This illustration shows how WiFi signal disruption by rogue personal routers can affect your MWireless signal.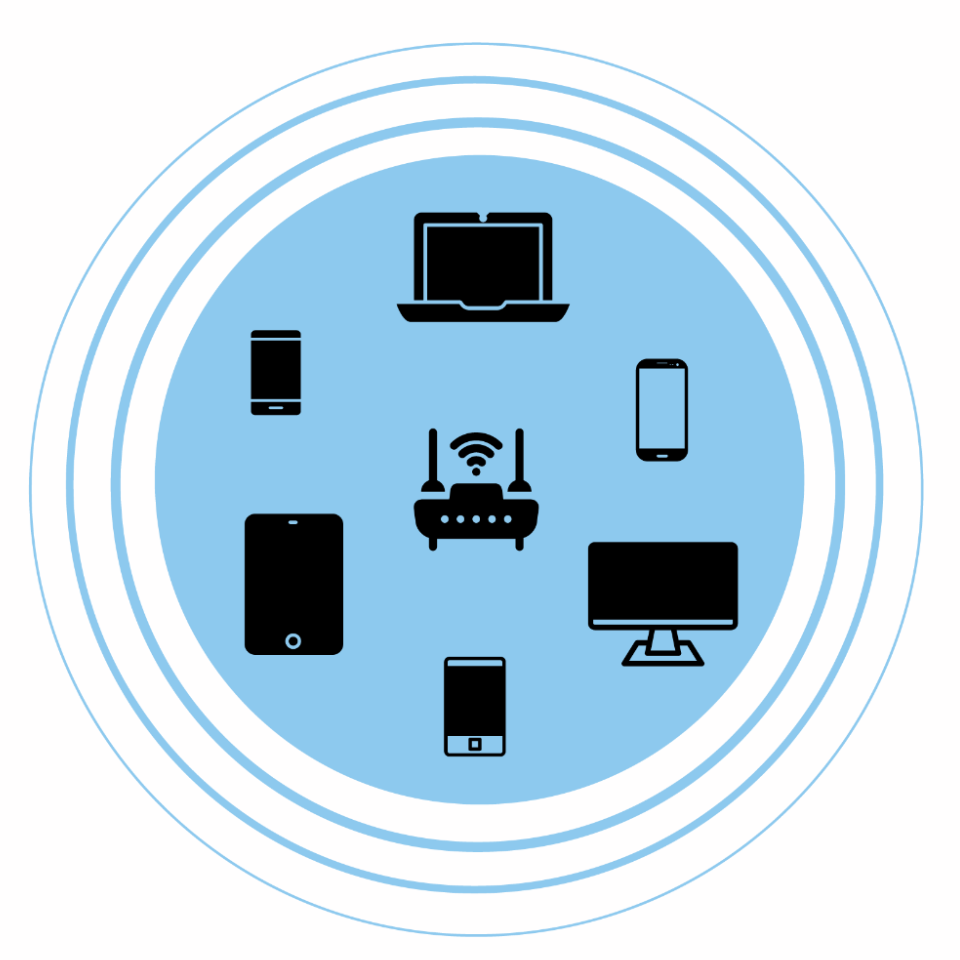 Shared Airtime
Every client and access point on the same channel compete for time to talk.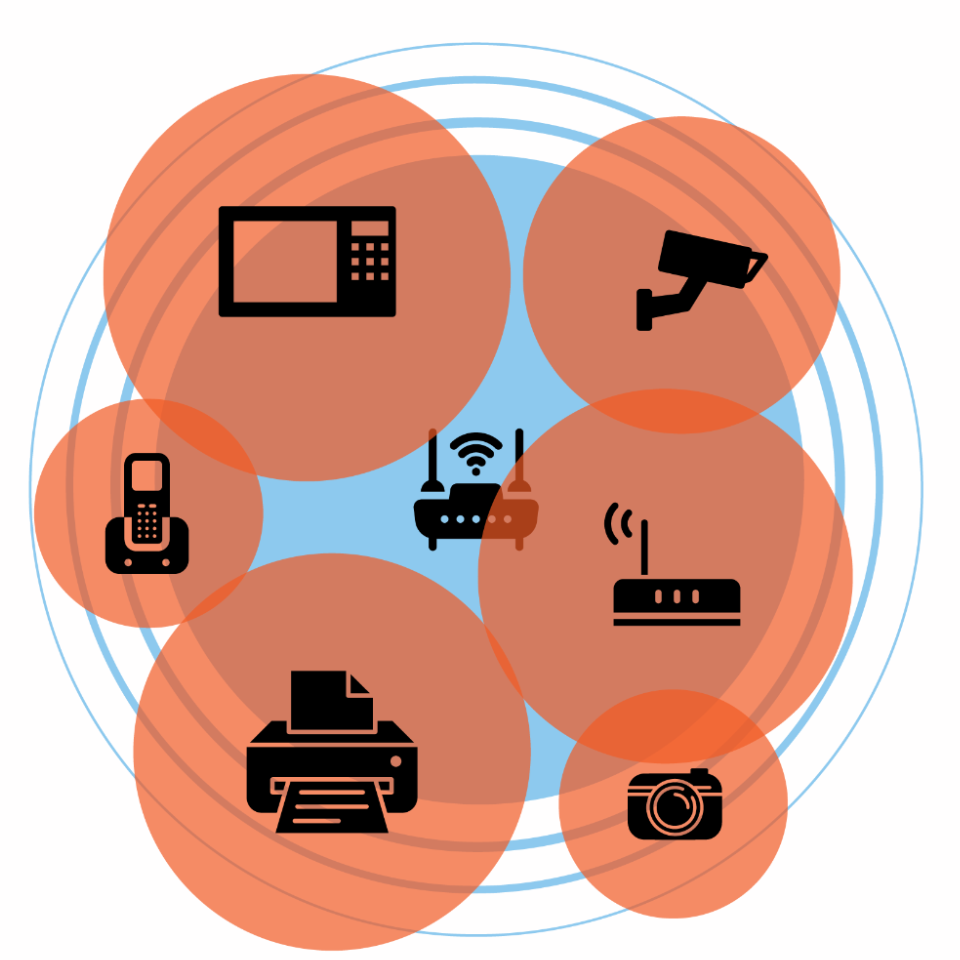 WiFi Interference
Network and non-network devices compete for airtime access.