Have a question about ITS AI Services?
We will be hosting daily virtual Office Hours via Zoom. Refer to the 
Support
page for details.
ITS is now offering a generative AI platform available to all active U-M faculty, staff, and students on the Ann Arbor, Flint, and Dearborn campuses and Michigan Medicine. These service offerings are equitable, accessible, and support everything from basic consumer usage to advanced research and experimentation.
U-M GPT
Our most accessible ITS AI service is U-M GPT, a tool that provides access to popular hosted AI models such as Azure OpenAI and

U-M

hosted open-source large language models.
U-M Maizey
U-M Maizey is a tool that allows

U-M

faculty, staff, and students to enrich their GenAI experience based on a custom dataset they provide. This service empowers users to extract valuable insights, discover patterns, and gain deeper knowledge from the available datasets. It is important to note that U-M Maizey is a new technology and we are looking forward to working with you to improve it. 
U-M GPT Toolkit
U-M GPT Toolkit is our most advanced and flexible service offering. It is designed for those who require full control over their AI environments and models. At launch, the API gateway is available upon request.
ITS AI Services Roadmap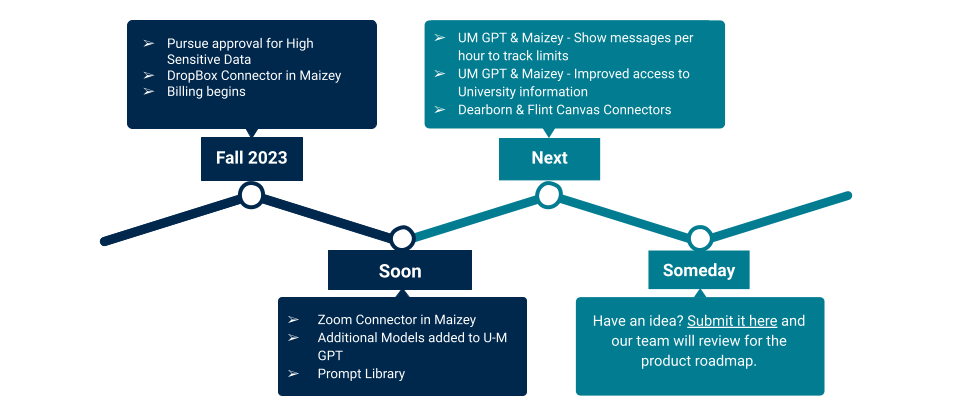 Specific AI Software Requests?
Looking for specific AI Software? Fill out the software interest form to tell us what you're looking for. If there is sufficient interest across the university, a software title may be added to the ITS Software Store and/or to the UmichITAM consortium.
Data Protection and Privacy
At ITS, we prioritize the privacy and security of all members of the U-M community. We are proud to offer advanced AI technology in support of the university's missions that aligns with our commitment to protecting institutional data and your personal information. Our platform is designed with robust data protection mechanisms, ensuring it stands out as a trusted solution amidst various other AI technologies.
Data collected and used by ITS AI Services is safeguarded through several mechanisms, including university policies, such as Responsible Use of Information Resources (SPG 601.07), Privacy and the Need to Monitor and Access Records (SPG 601.11) and Institutional Data Resource Management Policy (SPG 601.12).
Sensitive Data with U-M AI Service Offerings
ITS AI Services provide appropriate security and compliance assurance, allowing it to be used for teaching, learning, research, and many other use cases. ITS AI Services have been approved for use with moderately sensitive data. Use of the services with Protected Health Information (PHI) and other institutional data of High and Restricted sensitivity, as defined in the U-M Data Classification Levels, not permitted at this time.
Check the ITS AI Service entry in the Sensitive Data Guide to IT Services for a list of the data types that are permitted to be used with ITS AI Services.