In an effort to bring you the latest on new features and functionalities, we will be introducing service-specific summaries for Zoom and Slack, similar to what we currently offer for U-M Google. These summaries, however, will not be posted on a monthly basis like Google's, as these services update less frequently.
Updates:
Speaker attributions for live automated captions
When viewing automated captions in a live meeting or webinar, captions will now include the speaker's profile picture to make it easier to understand who is currently speaking. If the user has no profile picture, their initials will be displayed instead. Their full name is provided when viewing the full transcript. Previously, there was no speaker attribution in the displayed captions.
Meeting participants and webinar panelists can choose to display how much time is left in a scheduled session. This timer is based on the scheduled duration, and the timer changes to a slowly warming gold color after reaching "5 minutes remaining." Previously, participants could only choose to view the current duration of the meeting.
Hosts can now enable the Q&A feature in meetings to allow participants to ask questions, which can be viewed by all, but only answered by the host and co-hosts. You will need to enable this feature in your Zoom account settings on the web under In Meeting (Advanced) > Toggle "Q&A in meetings" on. Previously, this was only available in webinars.
Questions can be submitted anonymously, and responses can be sent publicly for all to see or privately to just the sender. Hosts can also mark submitted questions as something that will be answered live, so participants are aware and can expect their answers to follow soon.
Hosts and co-hosts can create and edit polls during a meeting. Previously, creating and editing a poll launched the Zoom website for changes to be made there. For macOS users, this feature requires macOS version 10.12 or higher.
Animated meeting reactions
Reactions shown in each video tile can be animated to draw greater attention. The following emojis can be animated:

. You can turn these reactions off in your Zoom desktop app settings under General > Reactions > Check/uncheck the "Animate these emojis" box.
In addition to the animal avatars already available, you can now create custom human avatars to be used in meetings. Customization options include numerous facial features, skin colors, and more from which to choose.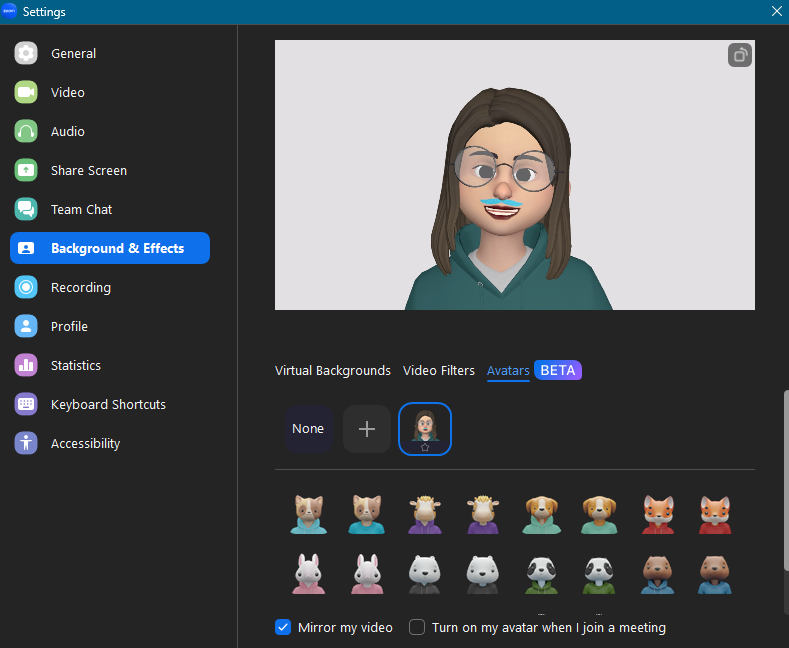 Previously Communicated: