The monthly U-M Google Summaries inform the university community of Google releases. We communicate important information throughout the month.
Updates:
Google has announced they will be making it easier to manage access requests to Google Drive files without leaving Gmail by sending dynamic emails. Previously, when someone requested access to a Drive file, you received an email with the access request and had to navigate to the file to give access. You will soon be able to manage that request directly from that email, without leaving the message or Gmail. Specifically, you'll receive a dynamic email that lets you review the request, choose the access level (e.g., Editor, Commenter, or Viewer), and grant access directly from the email. This feature will be available for you in Gmail on the web, Android, and iOS.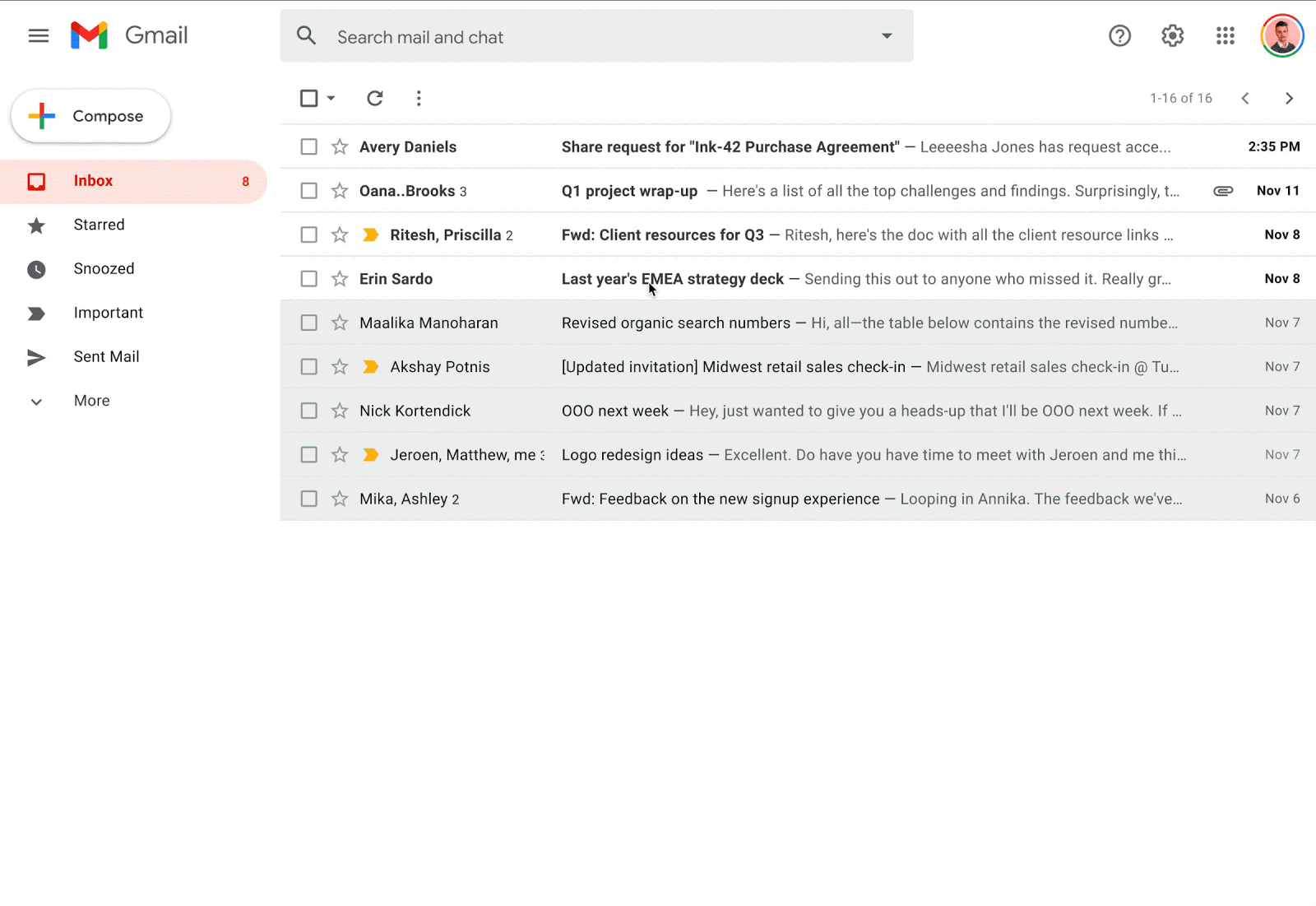 Note: The 'From' address for access request emails from Google is changing and will now come from drive-shares-dm-noreply@google.com.
For more information on dynamic email (including how to turn it off for your account), see Google's Complete tasks without leaving a message.
You can now create and view tasks in Google Calendar on Android and iOS. Previously, you could only do this in Calendar on the web. Tasks added to your calendar will automatically sync across desktop and mobile. Visit the Google Help Center to learn more about getting started with Tasks.
Google has made the following changes to the history on/off setting in Google Chat:
Moved the history on/off setting from the compose box to the conversation settings.
Updated the setting's look and feel to make it easier to tell if you have history set to on or off.
Google has updated the user interface (UI) of the Google Meet Android mobile apps. The new mobile UI will have the same look and feel as that of the meeting experience in the Gmail app.
Access checker in Google Slides ensures viewers and presenters can play videos and audio files as expected. With this launch, Google will also perform an access check for already embedded audio and video content after sharing the presentation with others. Specifically, when you close the sharing dialog, the Access checker will run and may suggest permission changes for multiple Drive video and audio files in the presentation.
You can now see when the other person has seen your Google Chat direct messages. This will only apply in active chat windows for one-to-one conversations on Android, iOS, and the web. In these messages, you'll see the avatar of the person you're chatting with to the right of the last message they've seen. Read receipts won't be visible in group messages or rooms. This feature was previously available in classic Hangouts and is now available in Google Chat.
You can now mark conversations as favorites in new Google Groups. To mark an item as a favorite, simply click the star icon. You can access starred conversations from the left-hand navigation menu, making them quick and easy to find. This feature was previously available in classic Google Groups and is not available in new Groups.
You can now mention another user in Google Docs within the document itself. Previously, this was only possible within a comment. When another user is mentioned, you can hover over their name for information about them and to view suggested actions. (This is the same information you see today when hovering over a user's name in other Google Workspace apps, such as Gmail or Calendar.)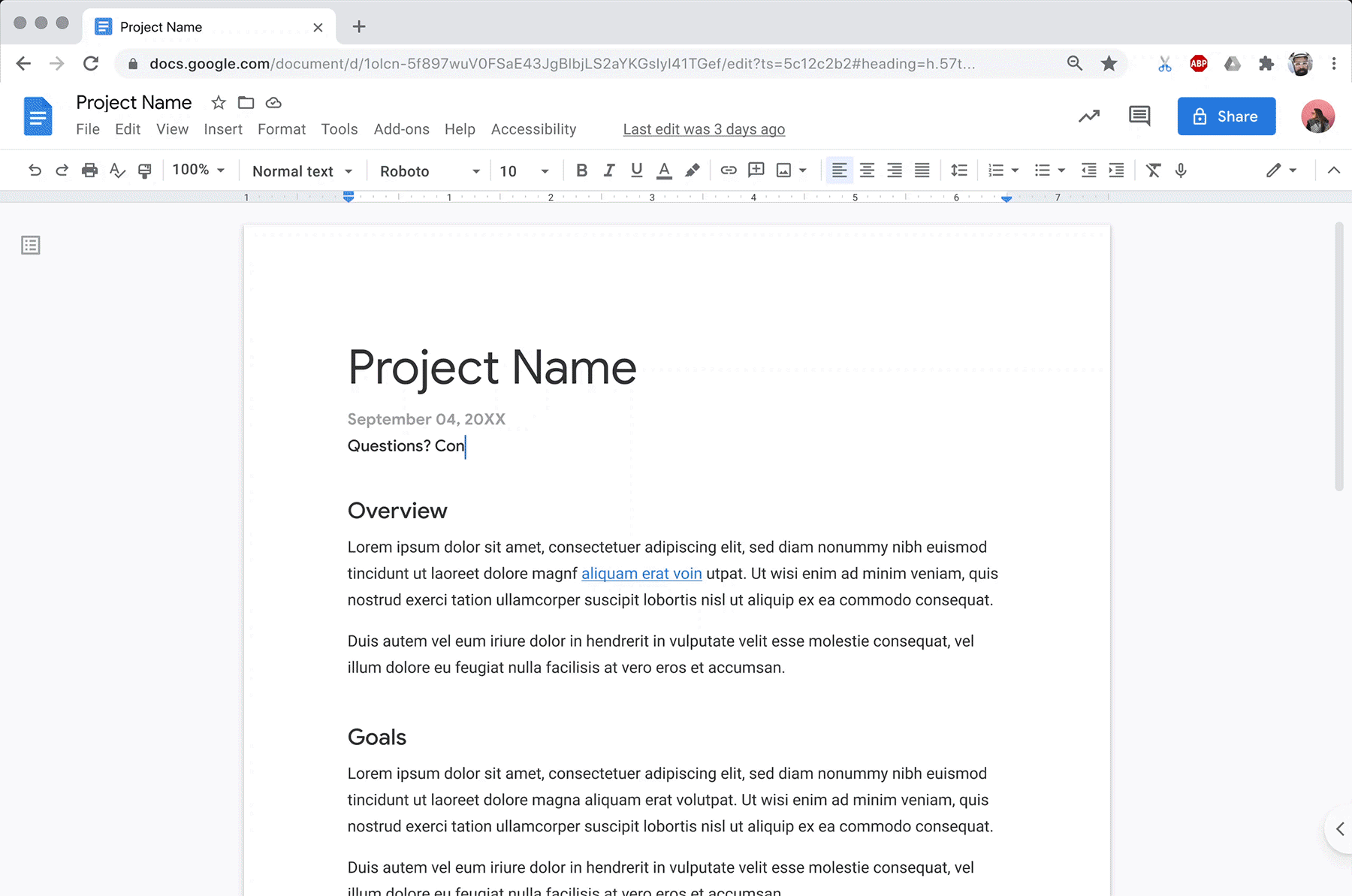 Google has introduced a new feature called Smart Fill for Google Sheets, which detects and learns patterns between columns to autocomplete data entry intelligently. For more information (including how to turn this feature off for your account), see Google's Use SmartFill in Sheets to automate data entry.
Google has updated the default way videos play when you present in Google Slides. Now, the video will start playing when you click to advance the presentation. Previously, you had to click on the video for it to start playing.
There are now three options to control playback:
Play (on click): The video will play when you advance the slide. (This is the new default option.) 
Play (automatically): The video will play without you clicking to advance. 
Play (manual): The video will play when you click specifically on the embedded video in the slide while presenting. (This was previously the default.)
Note: This change will only apply to videos inserted after the feature was released. Videos already in presentations will not change playback type automatically, but you can change them manually from the Format tab in Slides. To learn more, see Google's Insert or delete images & videos.
Previously Communicated: