Updates:
You can now use live pointers in Slides, a new feature that allows you and your collaborators to view each other's mouse pointers in real time. This feature is OFF by default. To make your pointer visible to collaborators, open a Slides presentation, click View > Live pointers > Show my pointer.
Once pointer visibility is turned on, your pointer will remain visible in all Slides presentations until you turn it off. You can only show your pointer if you're using Slides on a computer and have edit access to the presentation, but all access levels can view pointers. Learn more about live pointers in Slides.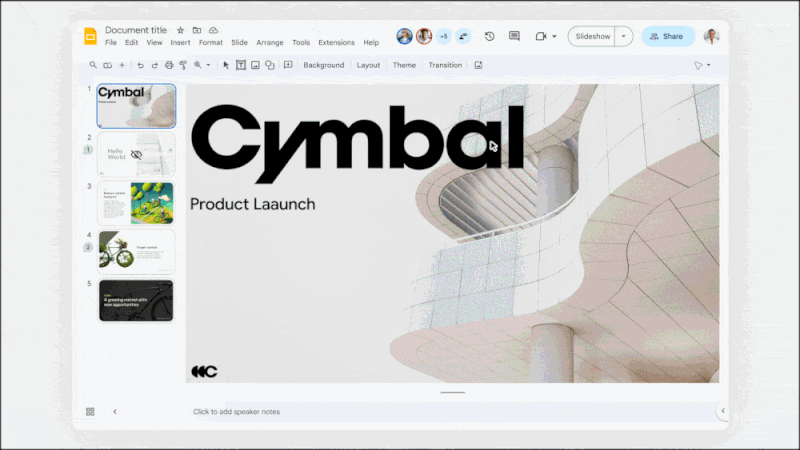 Google has introduced tile pairing for Meet, which will allow you to pair your video tile with another meeting participant's tile. Once you pair your tile, other meeting participants can find both tiles shown next to each other. Both pairing partners will have their borders outlined in blue when speaking. Tile pairing will be indicated in the meeting captions, as well. This can be especially useful in situations where you want to ensure a sign language or other language interpreter is visible during the meeting. Learn more about pairing tiles and accessibility in Meet.
Google has introduced "message bubbles" in Chat to help you differentiate incoming versus outgoing messages in the message stream. Previously, all messages in Chat were aligned the same regardless of the sender and displayed without any visual containers to separate messages into clear groups. With this update: 
Each incoming message has a gray message bubble aligned to the left.
Each outgoing message has a blue message bubble aligned to the right.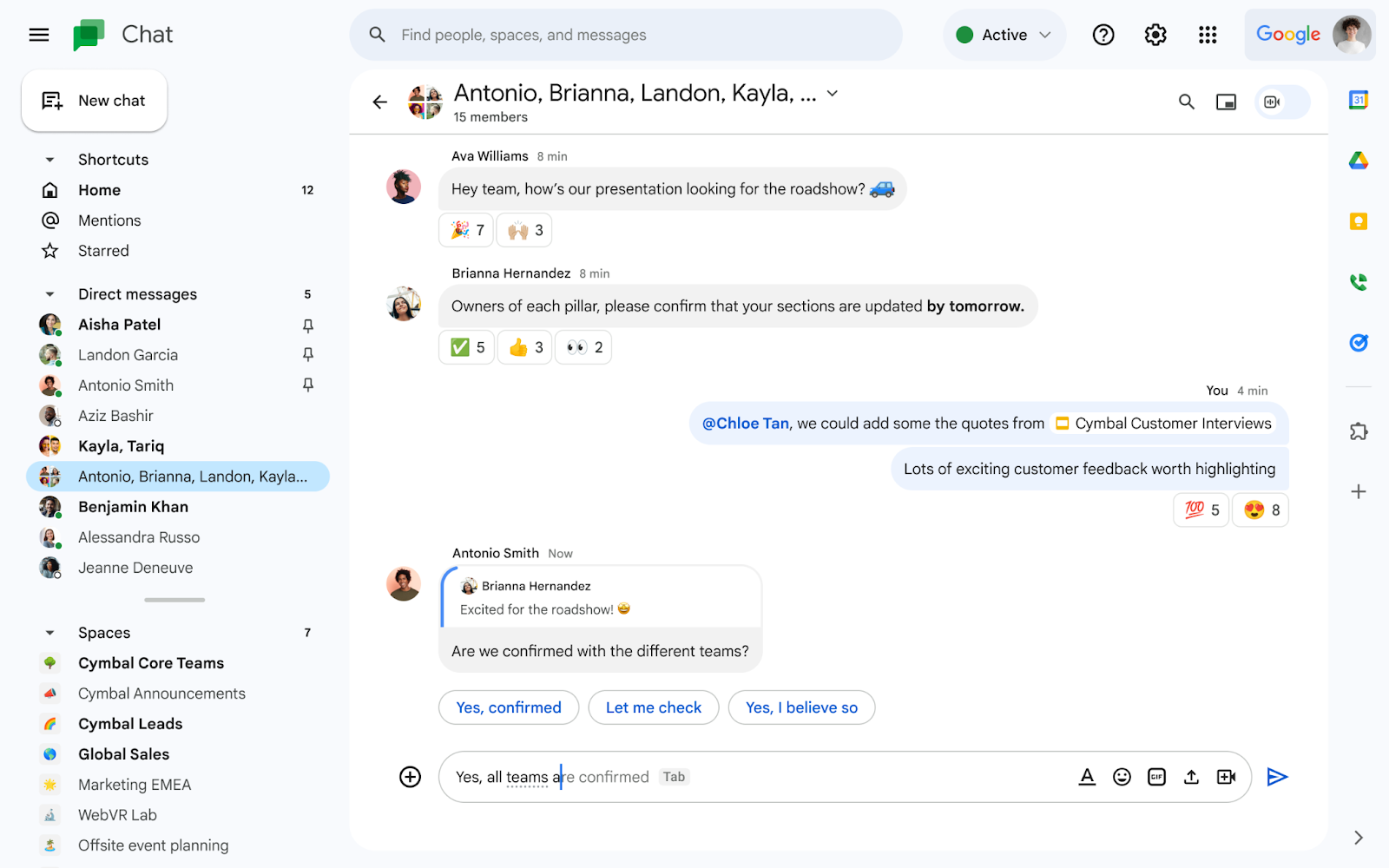 A more detailed view of how many members have viewed messages in Chat spaces can be seen by hovering over the message, clicking the three-dot menu icon, and selecting See message views.
Copy member email addresses in Google Chat spaces
Space Managers and members can now copy the email addresses of members in a Google Chat space. This option is on by default for spaces with 100 members or less and off for spaces with 100+ members.
Google has brought smart chips to Chat on the web. When composing a message in Chat, typing "@" will now display a list of suggestions for files to include as smart chips. You can search files by typing the name of the file, and the results will be based on files you've used most recently. Once a file is selected, you can insert it directly into your message. Learn more about sending and sharing files in Chat.
Google has added the option to lock Drive files by right-clicking the file, hovering over File information, and clicking Lock. Edits, comments, and suggestions can't be added to locked documents. In order to lock or unlock a file, you must have edit access to it.
Expanded autocorrect to Google Chat on the web 
Google Chat on the web will now automatically correct misspelled words. Similar to functionality in Gmail and Google Docs, the corrected words are shown with a gray underline so you know when the auto-correction has occurred.
Expanded file organization with new location picker across Google Workspace
Earlier this year, Google introduced streamlined file organization with the new Google Drive location picker. As a follow-up, they have expanded this updated visual experience to Google Docs, Sheets, Slides, Drawings, Sites, and Gmail.
Updated zoom-in/out capabilities across Google Docs and Slides
There are new keyboard shortcuts in Google Docs and Slides on the web to help you zoom in, zoom out, or scale to 100%. Additionally, you can now zoom in or out in Slides using the trackpad or mouse wheel with a modifier key (Cmd/Ctrl). Learn more about keyboard shortcuts for Docs and Slides.
Expanded language support for captions in Google Meet 
You can now use captions in more languages, such as Arabic, Hindi, and Swedish. For a full list of available languages, visit the Google Help Center.
Previously Communicated:
Final Reminder: Upgrades to threading in Google Chat spaces to begin September 30