Streamline your unit's financial reporting processes by utilizing one or more options from the Real-Time Financials Toolkit.
eReconciliation
M-Pathways eReconciliation provides Statement of Activity (SOA) reconcilers an online option to verify their unit's and/or project/grant's financial transactions.
With eReconciliation you can:
View summary journal with its detailed transaction data on one page.
Sort the transactions to help you locate transactions for reconciliation or information.
Mark transactions as reconciled (or view auto-reconciled or SSC-reconciled transactions) to provide "at a glance" status information for the transaction.
Annotate transactions to provide additional information about the transaction or your reconciliation efforts.
Link to all transaction detail (e.g., payroll or vouchers) without needing additional system access.
Run eRecon reports as a package or individually.
eReconciliation Reports are run after you complete your online reconciliation. The reports package contains:
Statement of Activity (journals)
Voucher Detail (procurement transactions)
Accounts Receivable/Billing Detail
Payroll/Benefit Detail
Student Financial Detail (financial aid)
There are two versions of these reports. The eRecon Reports use the layout of the M-Pathways Statement of Activity and Detail reports to display data, providing additional financial management data (e.g., Account Group sub-totals) not shown in eReconciliation. The Original eRecon Rpts display data using the layout of the eReconciliation pages.
eReconciliation notes and flags also appear on the Statement of Activity reports run from M-Pathways and on the Detail reports (e.g., Finance Reconciliation Detail or Voucher Detail) in M-Reports to show your reconciliation efforts.
To learn more about eReconciliation:
Unit Defined Commitments
M-Pathways Unit Defined Commitments (UDCs) provide a way to report encumbrances (i.e., revenues or expenses) not yet accounted for by a central system process for your department or project/grant.
UDCs, along with Real-Time Financials Estimates, allow you to see more accurate "bottom-line" projected amounts on financial reports, including:
When reconciling your SOA, use UDCs to encumber any large, outstanding expense or revenue that did not appear on your Statement of Activity for a particular month and that would not be automatically included in the other RTF Estimates.
To learn more about UDCs:
Reporting Budget Ledger
The M-Pathways Reporting Budget Ledger (RBL) allows units to upload and report on budget data for non-sponsored fund activity (e.g., unit-defined project/grants or general funded departmental programs), facilitating all-funds reporting in the central financial system.
The Reporting Budget Ledger, along with Unit Defined Commitments and Financial Estimates, enables "end-to-end" budget-to-actuals financial reporting through: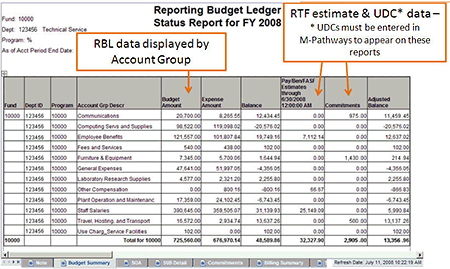 To learn more about using the Reporting Budget Ledger for all-funds budgeting:
Toolkit Access
The RTF Toolkit offers three separate system options that you may choose from to best suit your unit business. Work with your Financial Unit Liaison to select the appropriate system role in the Online Access Request System (OARS).
The FN RECONCILIATION VIEWER role provides eReconciliation access.
The GL UNIT DEFINED COMMIT USER role provides Unit Defined Commitments access.
The GL BUDGET USER role provides Reporting Budget Ledger access.