M-Pathways Unit Defined Commitments (UDCs) provide a method for University units to record planned expenditures or revenues (i.e., encumbrances) until the actual payment or receivable occurs. Entering UDCs for your department or project/grant allows you to see more accurate "bottom-line" amounts on financial reports.
What makes up a UDC?
A Begin Date, a Chartfield combination, and an Amount are all that is required to record a commitment in M-Pathways. We also recommend using the Reference and/or Description fields to help identify the purpose of the UDC.
There are two ways to enter a UDC in M-Pathways:
Online: best used to enter a single UDC
This method allows you to select a Shortcode as a way to enter the Chartfields for the UDC. (

If you use a

Shortcode

, don't forget to enter the Account value.)

Upload: best used to enter multiple UDCs or to update the Chartfields for multiple UDCs
​Download and save the reusable UDC Load Template to your computer. (You will need to enable Macros to use the Excel template.)
UDCs and Sponsored Project/Grants
To facilitate project/grant budget reporting, M-Pathways Unit Defined Commitments automatically creates a corresponding commitment for indirect cost (IDC) when you enter a UDC for a sponsored project/grant (i.e., those beginning with F, N, or M). The amount of the auto-calculated IDC UDC is based on the IDC Rate of the project/grant.
Avoid double-counting! Enter the direct cost as the amount of your UDC only.
Releasing UDCs
Releasing a commitment removes the encumbered amount (and related indirect cost commitment) from various financial reports. The M-Pathways Manage Unit Defined Commitments grid offers a quick online method for managing your UDCs; including amounts, dates, and releases. Links provide access to an individual UDC for additional edits.
Three release options:
Enter a Commitment End Date
Release as of Today
Release from the last month closed
You must release a UDC to avoid double-counting the committed amount and the actual revenue or expense. Instructions for entering a UDC (online or upload) and for using Manage UDCs are in My LINC.
UDC Data on Financial Reports
The Commitment Begin Date and End Date determine whether the UDC is active. Active UDCs appear on monthly financial reports when the end date is:
Not specified (i.e., blank)
Between the last day of the closed month and the current date
If the end date is prior to the last day of the closed month, the UDC will not appear on the report for that month. (e.g., if the Commitment End Date is 09/28/12, it will not appear on the September financial reports.)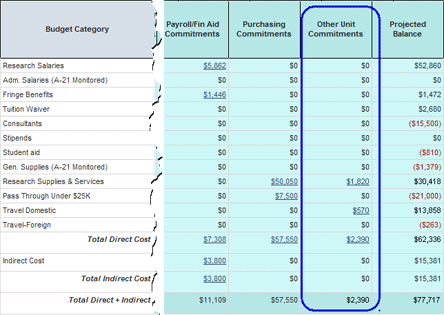 Check out the UDC data on reports in:
M-Reports

or M-Pathways (Project Grant Budget Status)

M-Pathways

nVision (Income Statement reports)
BusinessObjects

CMB Project Grant Budget Status with Estimates
CMB Reporting Bdgt Ledger NonSponsored Reconciler by FundDeptPrgm
CMB Summary of Project by Project Director with Estimates
UDC data is refreshed hourly in M-Reports and BusinessObjects.
Resources
For M-Pathways UDC access, request the GL UNIT DEFINED COMMIT USER role in the Online Access Request System (OARS).
My LINC provides instructions and information about using Unit-defined Commitment procedures in M-Pathways.