Some features may not be available depending on the platform and operating system you are using. See more about Teams features by platform.
As U-M continues to develop Microsoft Teams as a service, new features and enhancements will be rolled out to campus.
Change Meeting Participant Settings
Participant settings (bypass waiting room, who can present, etc.) can be adjusted in Meeting options, which can be accessed from the meeting invitation or from within the meeting's participant list. See participant roles and permissions for more detailed instructions, or how to secure Teams meetings for U-M recommended settings.
Google Calendar
Open the meeting invitation on your Google calendar and click Meeting options. Note that you must first install the Microsoft Teams Meeting Add-On for Google Calendar.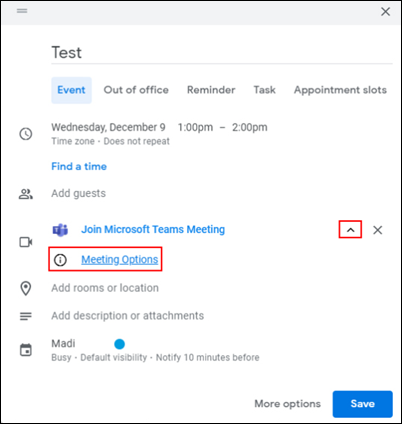 Manage Participants list
After opening the meeting, click the ellipses menu above the participant list and select Manage permissions.