The monthly U-M Google summaries inform the university community of new Google releases and previously communicated updates.
Updates:
You can now reply directly to any message in new and existing unthreaded spaces. This creates a separate in-line thread where smaller groups of people can continue a conversation on a specific topic, similar to Slack's in-line threading. Moving forward, newly created spaces will feature in-line threading by default.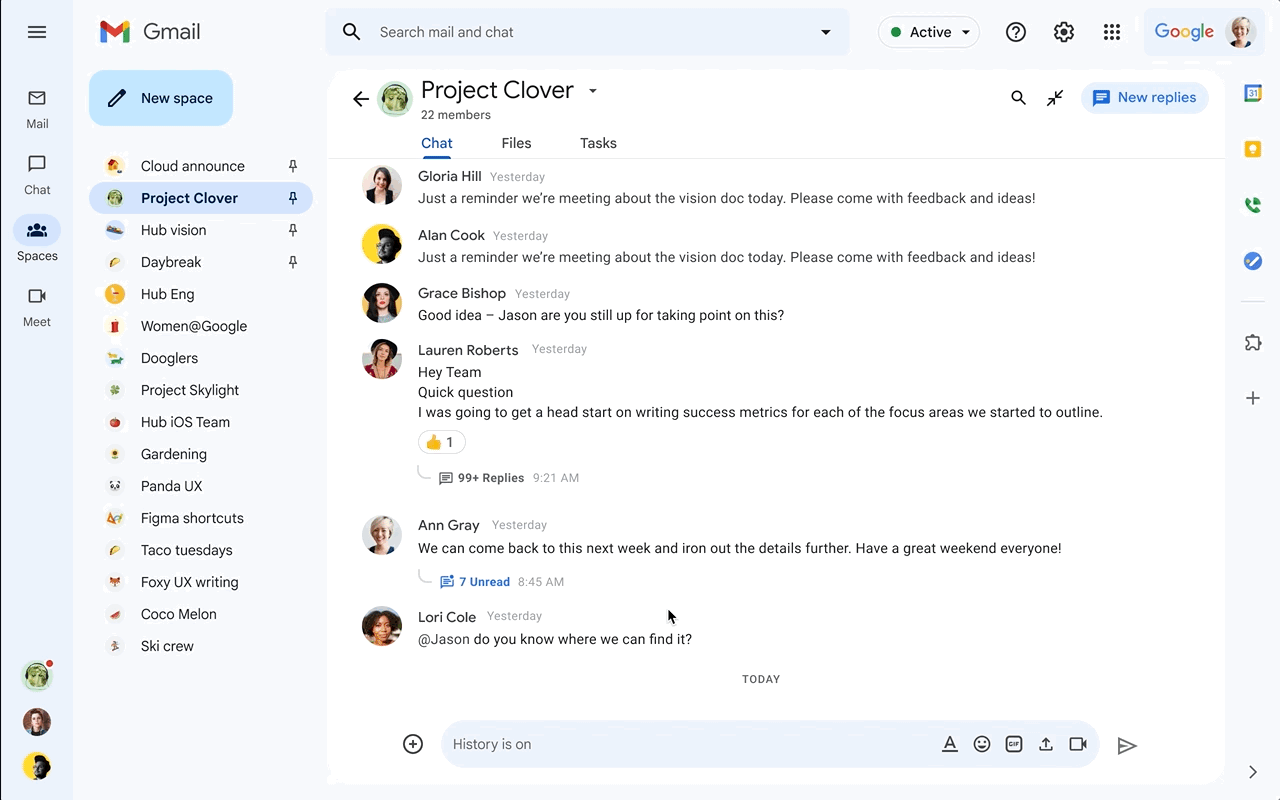 With the new right-side thread navigation panel, you can browse through all the threads in the space and filter just for threads you're following or where you're specifically mentioned.
Additionally, beginning in early 2023, the option to create spaces organized by conversation topic (i.e., threaded spaces) will be removed, and in-line threading will become the default for all new spaces. Existing threaded spaces will not be impacted. More information to come, according to Google.
Learn more about using Spaces, organizing a space, and managing a space with in-line threading. 
You can now add Google Drive files directly into a Google Sheet as a smart chip to quickly preview and interact with files in Sheets. This feature is already available in Google Docs. Learn more about inserting smart chips in Google Sheets.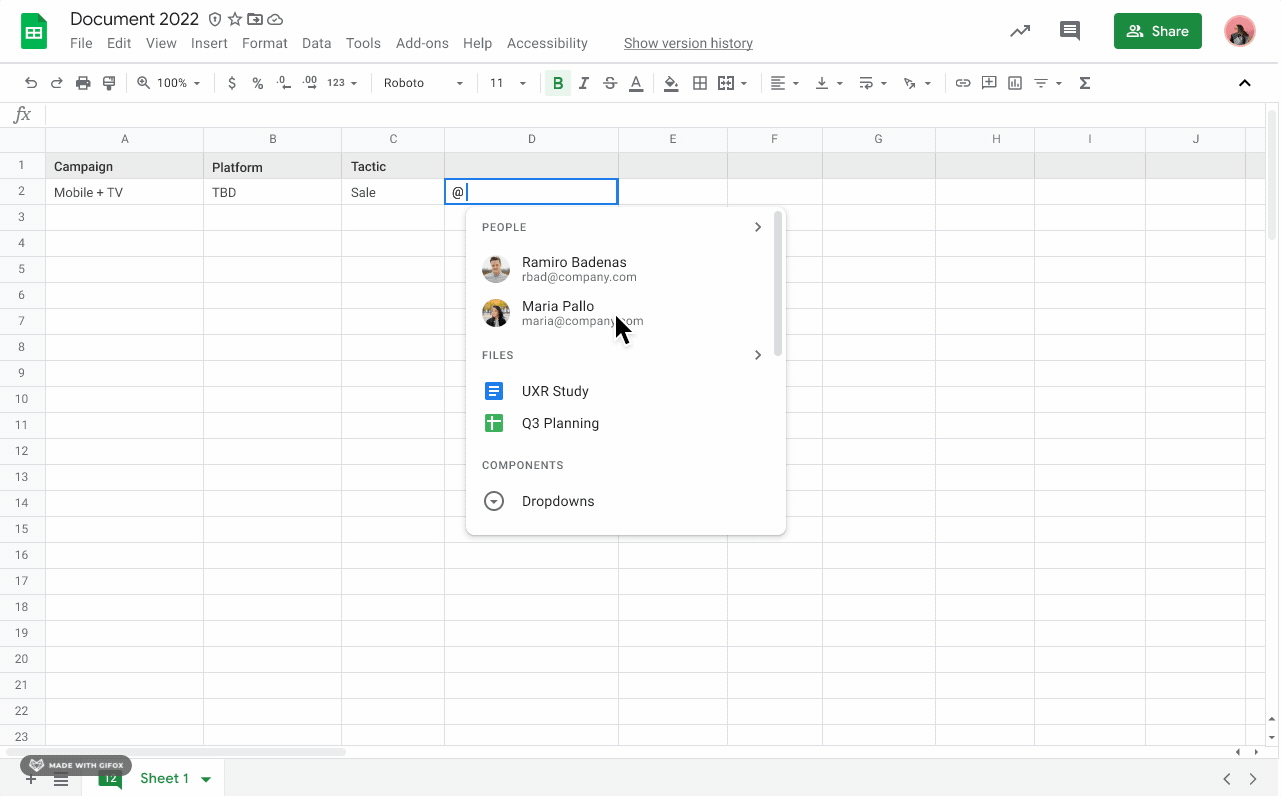 In addition to the new ability to add smart chips for Drive files in Sheets, you can now also add Google Calendar events. Once placed in your Sheet, you can view the event name and an actionable hover card in the cell, which includes an overview of attendees, times, and other meeting metadata. Learn more about inserting smart chips in Google Sheets.
Google has expanded interoperability with Google Meet and Jamboard with the new option to join or start a meeting directly from Jamboard on the web (as you can with Docs, Sheets, and Slides). This feature is available on the web. Learn more about collaborating with Jamboard in Meet.
As they did earlier with Docs and Sheets, Google is now updating the menus in Google Slides and Google Drawings to make it easier to locate the most commonly-used features.
You can now split table cells into a desired number of rows and columns in Google Docs.
To split cells, right-click the table cell, select Split cell, enter the number of rows and columns you want, and click Split. Learn more about adding and editing tables in Docs.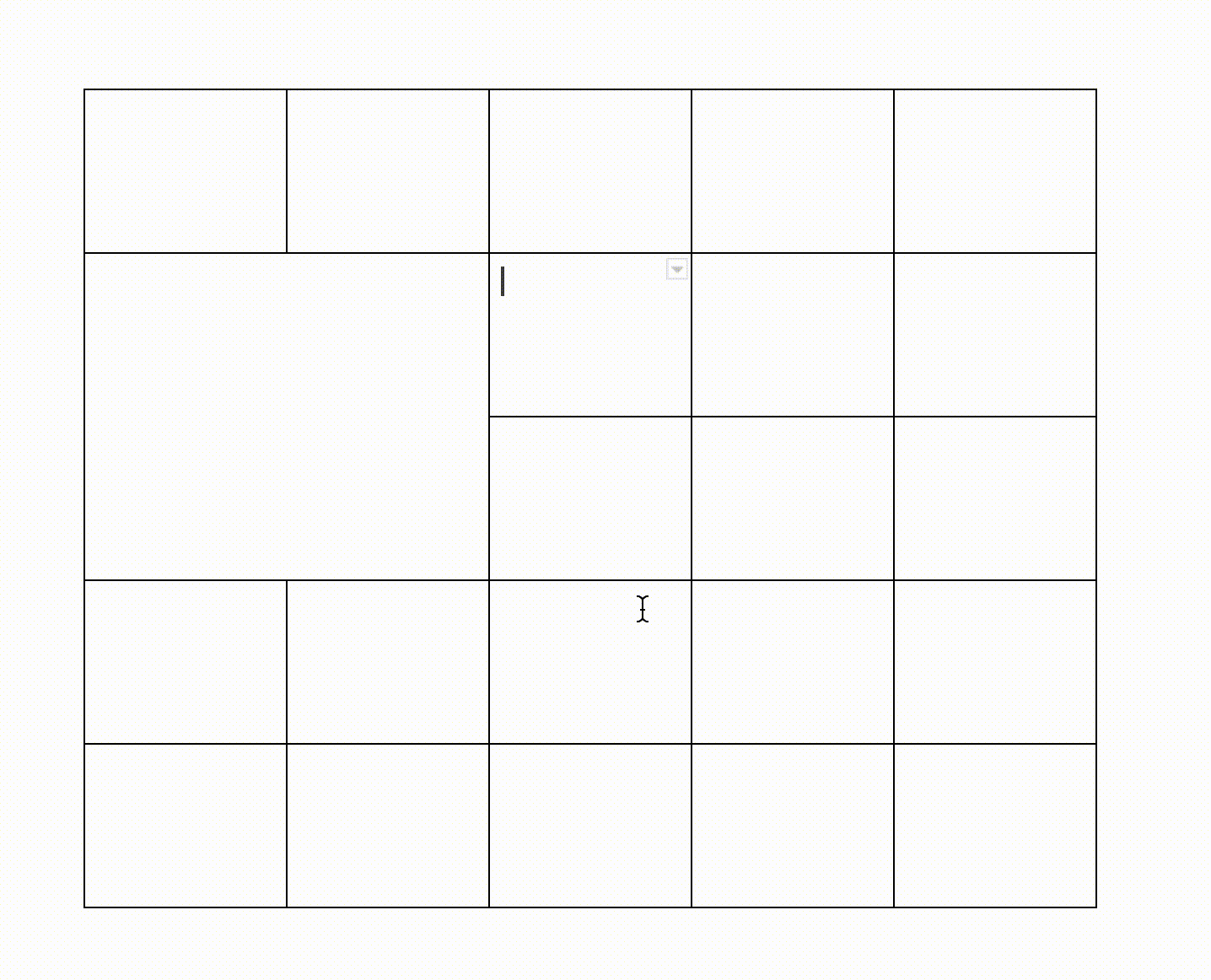 Google has added three features to improve the Google Chat and Gmail search experience on web and mobile. These features include:
Search suggestions: Search query suggestions based on your past search history in Chat will now appear as you type in the Chat search bar.
Gmail labels: You can now search messages under a specific Gmail label in the mobile app to return results only within that label. You can also use search chips in the Gmail search bar to refine label searches.
Related results: For Gmail search queries that return no results, related results will be shown.
Learn more about search in Gmail and searching for Google Chat messages. 
See when colleagues are out of the office on Android
When viewing an individual's information card in Google Calendar, Gmail, and Chat on Android, you are now able to see their out-of-office status via an out-of-office banner. This feature is already available on iOS devices.
Improved experience for the Calendar guest list in Google Meet
To help participants run effective hybrid meetings, in addition to seeing the RSVP status of everyone on the meeting invite, you'll now see all information from the Google Calendar guest list, including: 
Working Location 
Out-of-office status 
If the meeting is outside of an invitees working hours 
If an invitee is joining from the meeting room
Previously Communicated:
Notice: Google Hangouts will finally retire on November 1, 2022