Updates:
Use alternative (ALT) text for visual content on Google Sites
Google Sites editors can now add or edit ALT text on inserted images and background images. When you insert an image, click the three-dots icon or drop-down menu on the image and select Alt text to add it. Learn more about making your site more accessible.
Google has released improvements to the "location picker" for Google Drive on the web. The location picker is the dialog box that appears when you are moving your files or folders in Drive. The updates include a new visual experience and suggestions when moving files and folders or adding shortcuts to items in Drive. Specifically, you'll notice: 
New "Suggested," "Starred," and "All locations" tabs. Upon navigating into a folder location, the tabs are replaced by a back button and the name of the location.
Details for the selected folder paths, an option to create a new folder, and an image notification if you're moving something into an empty folder.
Suggested locations and the option to reject the suggestion, which immediately removes it from the list.
Streamlined navigation that adds an inline Move button to complete the action of moving a file in one click. 
A label if a folder is "view-only" and explanations for why you might face an error when moving a file, such as not being the owner of a file.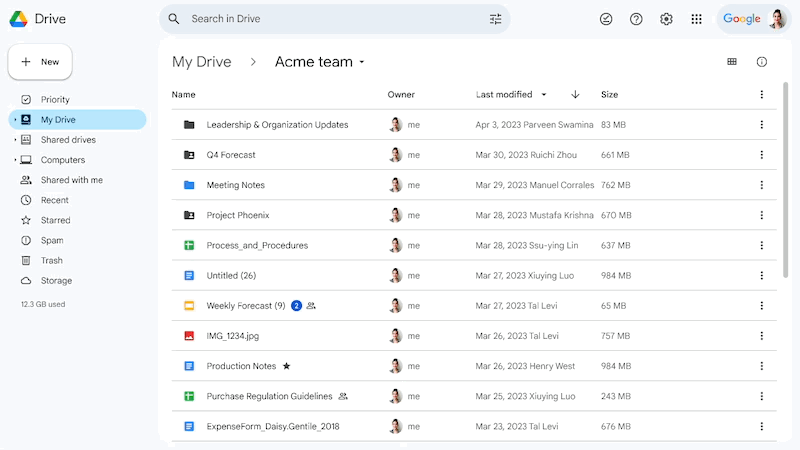 You can now add multiple smart chips to one cell in a Sheet and create a smart chip from a YouTube link. Learn more about inserting smart chips in your Sheets.
Replace images quicker in Google Slides with new drag-and-drop feature
There is a new ability to drag and drop an image from anywhere on your computer to replace an image in Slides. Previously, you could only replace an image by using the "Replace image" tool within the Slides interface. Learn more about inserting or deleting images and videos in Slides.
Add emoji reactions to existing comments in Google Docs
You now have the ability to add emoji reactions to existing comments in Docs. (This doesn't work for suggestions with comments.) Learn more about using comments, action items, and emoji reactions in Docs.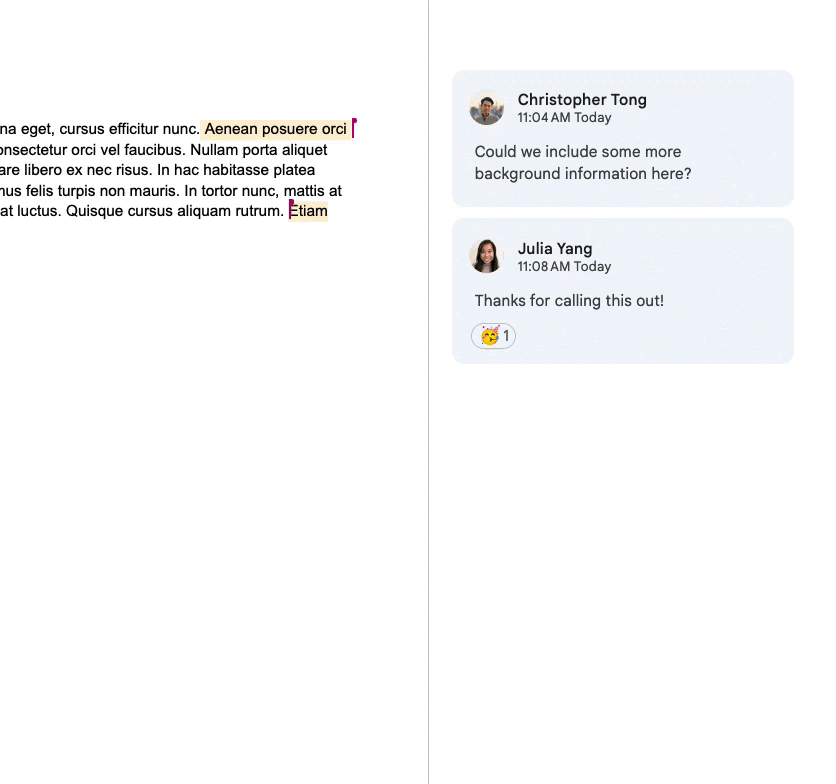 Chat statuses will include additional information, such as: 
How much longer someone is in a meeting or focus time
If someone has an upcoming meeting within the next 10 minutes 
If someone has an upcoming out-of-office event within the next business day
The Chat status will automatically disappear once you send a message to someone, or you can manually dismiss it. However, if their status changes, an updated status will reappear. Additionally, you can see the current working location and local time zone set by your colleagues when sending a new message to them in Chat.
Google has introduced a feature that allows you to quote a previous message when sending a reply in a Chat direct message, group message, or space (if configured with in-line threading). This feature is available for Google Chat on the web and mobile devices. Learn more about quoting a message in your reply. 
You can now expand and collapse header sections within Google Docs. Editors of a document will have the ability to set the default state of headers to expanded or collapsed for all collaborators. Collaborators with view or comment access can expand and collapse content when they have the document open, but it only affects their view.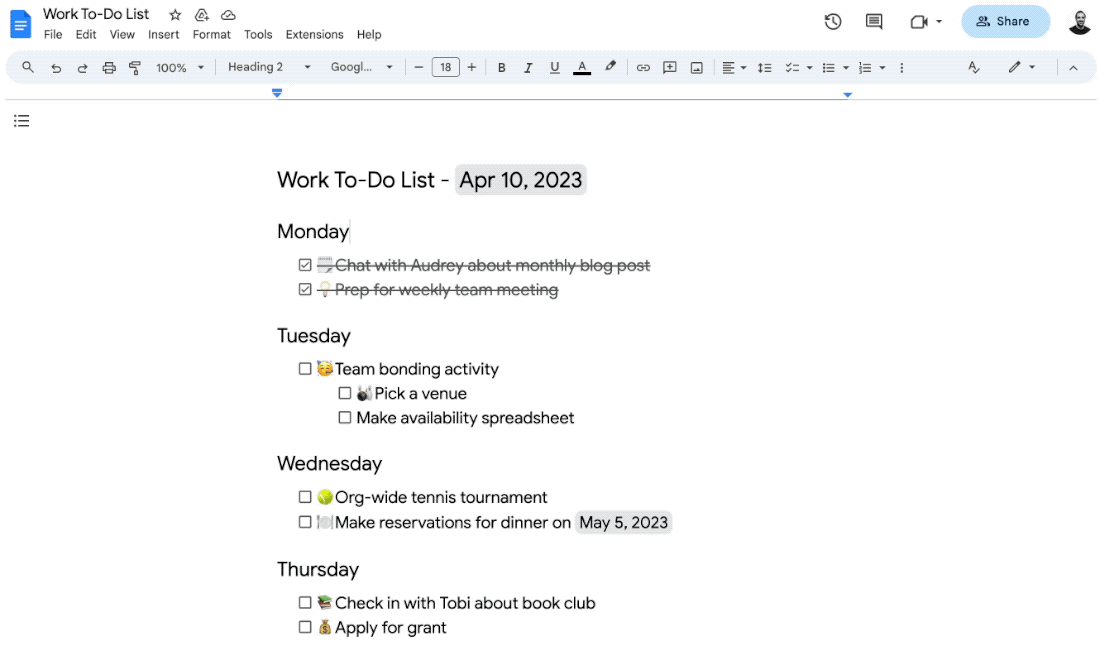 You can now create Chat spaces where only Space Managers can post. Upon creating a space, go to Advanced settings and select Only Space managers can post. You cannot modify the setting to restrict posting to Space Managers in an existing space, only new spaces. Learn more about creating an announcement space.
If you've set your physical or virtual working location in Calendar, there will be a default join method for your RSVP in Gmail. 
Google has added search chips in Drive that enable you to filter by criteria like file type, owner, and last modified date without having to use the search bar. Filtering by these criteria helps you narrow down and find relevant files faster in any view throughout Drive.

Previously Communicated: