The monthly U-M Google summaries inform the university community of Google releases. We communicate important information throughout the month.
Updates:
Google has expanded tile view layouts for Google Meet on iOS and Android to match the current experience on the web. With this update, you can now see up to 8 video feeds on phones and see up to 48 video feeds on some iPads.
Google has made it easier to find the original source file for Google Drive-stored video or audio files embedded in a Google Slides presentation. You can now click the "link to Drive" button on an embedded video or audio file to open the source file in Drive.

To prevent unauthorized users from responding on your behalf to Google Calendar event invitations, you'll now be required to be logged in to use any of the RSVP hyperlinks in Calendar invite emails. Previously, organizers or anyone with a specific invitee's invitation copy could respond on behalf of that invitee. Refer to the Google Help Center to learn more about responding to event invitations.
When using Jamboard on the web, you can now: 
See the version history, 
Create named versions, and 
Restore a previous version of a Jam file.
Google has introduced a new way to view and manage notifications in the Google Drive mobile app for Android. With this update you can: 
See all your notifications in one place, even without device notifications enabled.
Choose filters to control the types of notifications you get.
Delete and dismiss notifications you don't want.
Take actions like sharing files directly from notifications.
Show more file information directly from the notification.
Open the Google Drive mobile app, navigate to "Priority" and find the "Notifications" tab on the top of the screen. Refer to the Google Help Center to learn more about Google Drive notifications.
You can now snooze Google Calendar desktop notifications directly from the notification itself. By default, snoozed notifications will reappear one minute before the scheduled meeting, but you can change this timing in your Calendar settings. You can also "re-snooze" a notification for an additional five minutes as many times as you'd like until the meeting ends. This feature will be on by default if you have desktop notifications enabled. You cannot remove the option to snooze notifications, but you can change the timing of snoozed notifications. Refer to the Google Help Center to learn more about changing and turning off Calendar notifications.
You'll now see an anchor icon in Google Sites when editing a section that includes a background image. When selected, you can choose what point to anchor the image on or if the image should be centered.
Google has updated how some search operators work in Google Drive. This includes adding new search operators and changing the behavior of some existing search operators. You'll still be able to perform all the same searches, just the operators you'll use for them may change. The specific changes are:
"from:" will now return files shared with you by the specified email address. Previously, it would have returned files owned by that email address.
"to:" will now return files that you have shared with the specified email address. Previously, it would have returned all files that the email address had permissions to view, comment, or edit.
"sharedwith:" is a new search operator which will return files that the specified email address owns or has permission to view, comment or edit.
"owner:" returns files owned by the specified email address. There is no change to this operator, but you can use it to return the results for which you would previously have used the "from:" operator.
Refer to the Google Help Center to learn more about advanced search features in Google Drive.
Google has updated the presenter toolbar in Google Slides When presenting, now you'll see options for: 
Selecting the previous or next slide.
Selecting any slide from the picker.
The three-dot overflow menu, which will display options for opening speaker notes, autoplay, caption preferences, and more.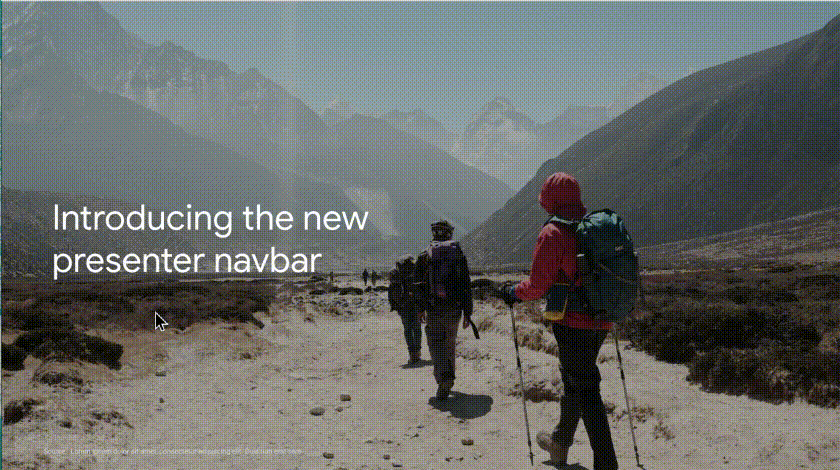 Previously Communicated: