Soon, you will be able to enable offline support for Google Calendar using Google Chrome on your computer. During a time where most are working remotely, this will allow you to access your calendars even when you have unreliable internet access. When enabled, you can view your calendar and events from four weeks prior or any time in the future by day, week, or month.
Note: When you are offline you cannot create or edit events, email guests, or access Tasks or Reminders.
This feature will be OFF by default and can be enabled from your Google Calendar settings.
From Google Calendar, click the gear icon in the top right corner and select Settings.
Under General, select Offline.
Check the Turn on offline calendar box.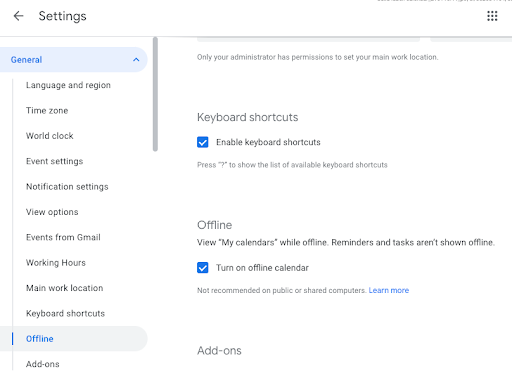 Important: If you clear your browser's cached images and files, it will also clear offline support for Google Calendar. You will need to turn on offline again to use Calendar offline.  
Visit the Google Help Center to learn more about using Google Calendar offline.
According to Google, this feature should begin showing up in U-M Google on February 8, 2021, and could take 15 days or longer to become fully visible.