Google has released a new feature in Google Calendar which allows you to create and share a meeting notes document right from a Calendar event. Creating a notes document from Calendar will automatically populate the document with the event information and attach the document to the event. This feature is currently only available to meeting organizers or guests with permissions to modify the event in Calendar on the web.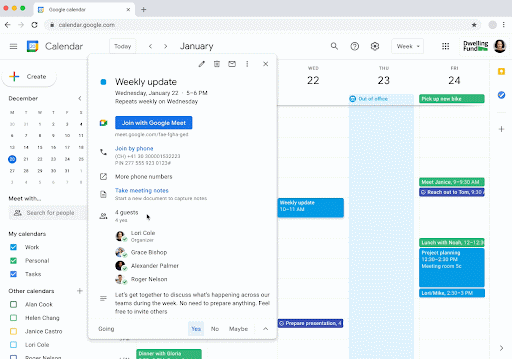 There are two ways to use this feature:
While creating or editing an event, click the Create meeting notes button next to the attachment section to create a new document, which attaches to the event upon saving the changes. (The document will be automatically shared with the attendees, including external users, once you click Save.)
On an existing, scheduled event, clicking the Take meeting notes button will create the document, and immediately open it in a new tab, as well as attach it to the event. (The document will not be automatically shared with the attendees. You will need to click Share in the prompt that appears in the document.)
You can also add the same meeting notes template into any Google Doc by typing "@" in the document and clicking Meeting notes from the drop-down menu. You will still need to share and attach this document to the Calendar event.
Visit the Google Help Center to learn more about meeting notes in Calendar.
According to Google, this feature began showing up in U-M Google on October 19, 2021 but could take 15 days or longer to become fully visible.