Google has released several new features for Google Meet that will make remote learning and collaboration more seamless.
Meeting control features:
You can now Mute or Remove/Hang Up a meeting participant if you are the meeting host. Only the meeting creator or Google Calendar event owner will be allowed to mute or remove/hang up other participants in a meeting. This ensures that the host can't be removed or muted by others participating in the Meet session. See Hangouts Meet improvements for remote learning for more information.
Tiled layout:
You can now see up to 16 people on your screen at the same time in Google Meet with the Tiled layout option. This feature is currently only available in Meet on the web.
To change the layout:
Click the three dots in the lower-right corner.
Select Change layout.
Select Tiled.
High-quality audio/video sharing:
You can now share high-quality videos with audio content in a Google Meet session by using the new Present option to share "A Chrome tab". Now, when you use this feature with video content playing, everyone in the meeting will see and hear the video and audio being shared. Note: This feature does not work if you're presenting a browser window or your whole computer screen. Visit the G Suite Learning Center to learn more about presenting videos during Google Meet sessions.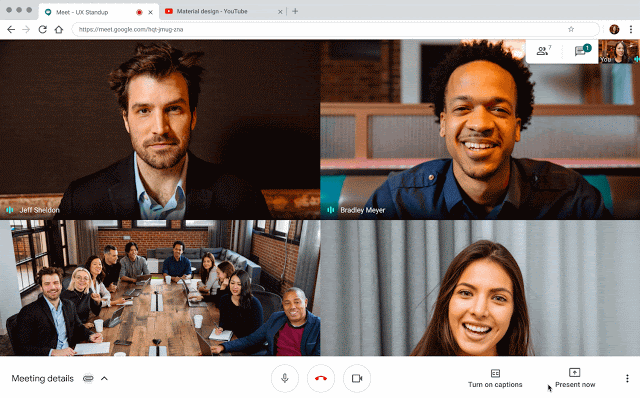 According to Google, these features should be available now in U-M Google.