Vision​ ​for​ ​Information​ ​&​ ​Technology​ ​Services
We commit to diversity, equity and inclusion as a means to flourish individually, excel professionally, and advance knowledge in information technology at U-M.
We will accomplish this by fostering a climate rooted in mutual respect, drawing on intellectual strength, and producing innovative solutions from the synergy of our people.
Our Strategic Plan
Like other U-M units, ITS has its own five-year plan that includes strategic objectives, measures, and actions planned for each fiscal year. Read the complete plan to learn more.
ITS Celebrates Diversity, Equity & Inclusion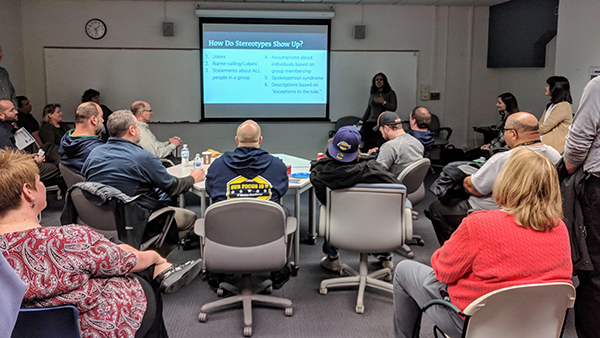 Staff across ITS attended DEI open house sessions at the Arbor Lakes Facility, Boyer Building or Shapiro Library. Monica Hickson (pictured), Jane Berliss-Vincent and Jeanne Mackey presented.
During U-M Diversity Summit 2017, Information and Technology Services staff members launched the week on Monday, November 6, with an all-staff open house held simultaneously in three locations.
Attendance was high with 25% of ITS staff represented, or about 170 individuals. The unique format included multiple, 45-minute sessions during a three-hour window, allowing staff to attend at a time of their choosing at one of the locations. ITS staff volunteers facilitated the activities at each site, which consisted of a 15-minute video playlist of DEI content, a 15-minute educational presentation about stereotypes, and 15 minutes of networking time to discuss the ITS plan for DEI with colleagues.
Staff also attended on-site and online the university's opening keynote on Tuesday, November 7, as well as the climate survey information breakfast, poster sessions, and interactive panel discussion.
On Friday, November 10, ITS hosted a staff event on the topic of microaggressions, using a structure similar to the open house with four, one-hour sessions. Around the room, a gallery of material was presented in the style of a graphic novel, illustrating the hurtful nature of certain remarks—intentional or not—that communicate hostile, derogatory, or negative slights and insults. The hand-drawn artwork was created and written by two ITS staff members who were present.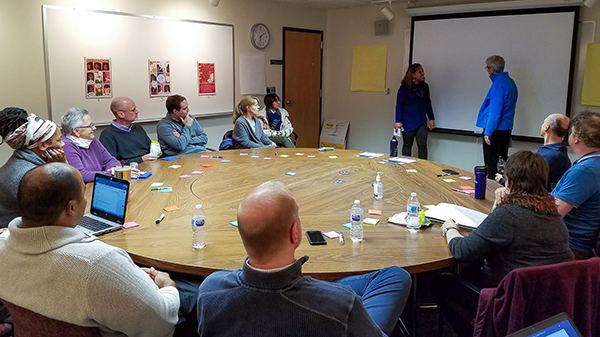 ITS staff members Monica Hickson (L), Jeanne Mackey (R) and Amanda Hudeck (not pictured) lead an interactive session on microaggressive behaviors.
A total of 32 participants wrote down anonymous microaggressions they have experienced in their own lives, then posted the notes to a wall for everyone to interpret. Each session also facilitated open dialogue in response to short videos on the topic.
Forty ITS staff members volunteered to take a front seat in moving the DEI effort forward in the months and weeks preceding the Summit. Committing to serve for one or two-year terms, these individuals have been instrumental in developing and supporting a strategic plan that will foster a climate rooted in mutual respect, draw on intellectual strength, and produce innovative solutions from the synergy of our people.
The first year of the ITS implementation plan is occurring during most other units' second year—ITS was previously a part of Business & Finance and helped to build their plan.
Now that ITS has an approved plan of its own, the organization is taking time to learn from other units, identifying areas of strengths and improvement from within, and encouraging supervisors and staff to participate in DEI activities and learning opportunities.
Throughout FY18, ITS will work to respectfully engage diverse perspectives through its words and actions, making the organization a place where staff members can learn from and support one another.