M-Reports Project/Grant financial reporting allows faculty and administrators to:
See a financial picture of all their project-based activity.
View summary information for all projects by Principal Investigator, Project Administrator, Initial (P/G) Department, or individual project grant.
Drill to various levels of detail for budget, revenue, expenditures, payroll/financial aid estimates, purchasing commitments, and unit-defined commitments
Minimize risks in over-/under-spending your Project.
The following reports are in the projects folder:
The Summary of Projects report shows lists of projects: Sponsored, UM-Funded/Gifts/Other, and Consolidated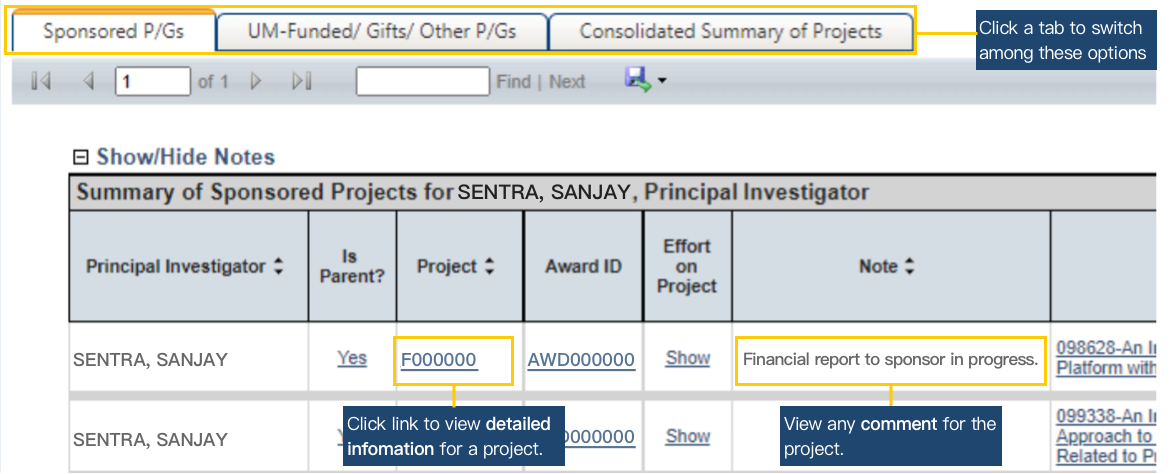 The Project/Grant Status and Activity report offers high level activity information for a Project with access to details.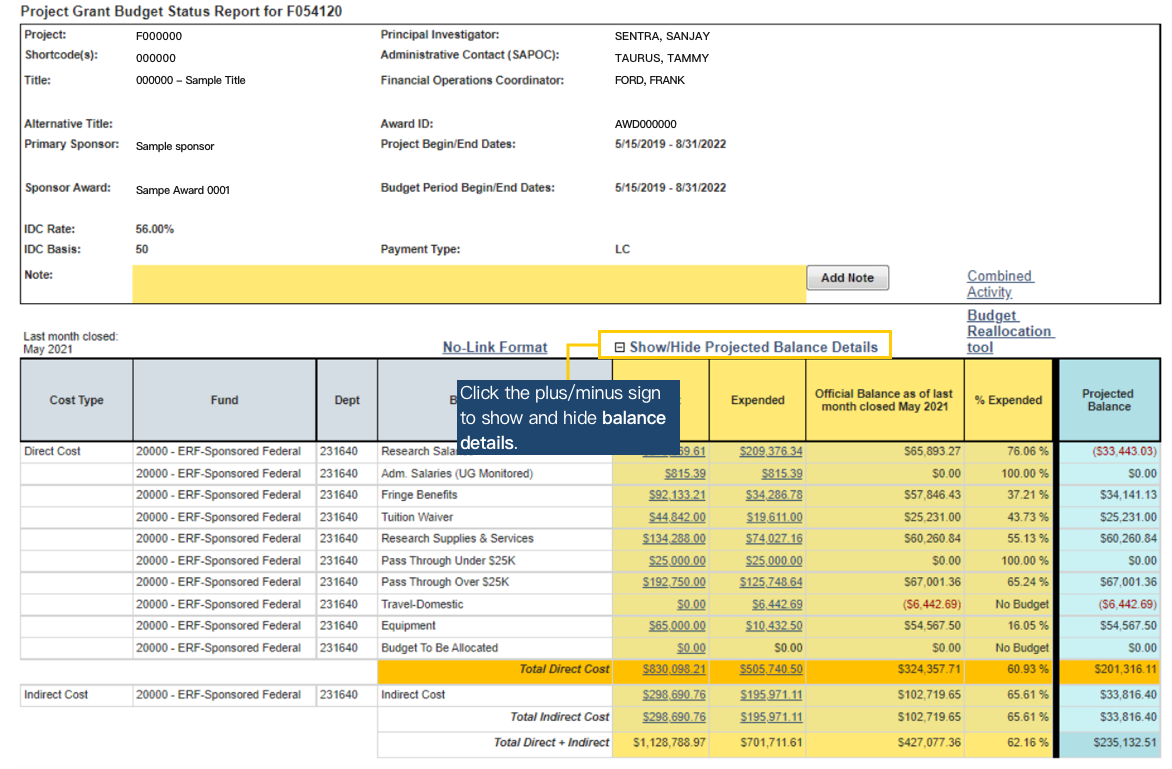 Other Project reports include:
Sponsored Parent Summary report, list of parent and sub-Projects for a particular award
P/G Info
P/G Billing Details report
P/G Financial Aid/Student Financial Details report
P/G Payroll Details report
P/G Voucher Details report - with links to voucher images.
Outstanding Receivables
Combined Activity - detail level of all transactions
Award ID Summary - summary report of all Projects connected to an Award
The status/activity report includes a link to the M-Pathways Budget Reallocation Tool if the project has a budget that needs to be allocated. It also shows current employee payroll effort.
The Detail reports include eReconciliation data (i.e., Reconciliation Y/N Flag, Last Updated By, Last Updated Date, and Reconciliation Note).
Access Details
Who needs access?
Individuals responsible for a Project (or those who support them) need access to Project reports.
How do I request access?
Principal Investigator (PI), Project Director, or Project Administrator (SAPOC) for a non-sponsored project are auto-granted access. Access is also auto-granted to users with the M-Reports role ICEmployment. Note: PI and SAPOC on sponsored projects are auto-granted access to the Research tab, same reports and report functionality under a different tab.
To request access to the Financial Management Project Reports, staff need to submit an OARS request for M-Reports ProjectGrantsReports. Faculty need to submit an OARS request for M-Reports ICEmployment.
If access to only one or two projects is needed, secondary security can be assigned by the PI. Secondary security grants access to the Research tab (same reports and report functionality). See these links for directions on secondary security assigning and viewing.
What can users see?
If you are a non-Faculty user, or if you have the M-Reports role ICEmployment, you can search for and view other projects. If you are a Faculty user, you can view your own projects. All users with access to a project have the ability to drill down to its details, such as voucher and payroll information.
Users with an appointment in one of the job families below are considered Faculty for this purpose and are limited to only seeing projects where they are the PI or SAPOC.
| Job Family | Job Family Description |
| --- | --- |
| 08 | Supp Clinical Instructional |
| 09 | Regular Clinical Instructional |
| 10 | Regular Instructional |
| 11 | Supplemental Instructional |
| 13 | LEO - Lecturers |
| 14 | LEO - Adjunct Faculty |
| 19 | Supplemental Primary |
| 20 | Primary |
| 22 | Emeritus |
Data Sources