Dropbox Team Folders are created by request for groups, teams, or departments. Team Folders are designed to share data that is automatically available to all MCommunity group members. Content in the Team Folder is owned by the MCommunity group, which is also where Team Folder membership is managed. Additionally, sub-folders and files within the Team Folder can be shared with MCommunity groups and/or individuals, as needed, for more granular control. Both files and folders inside a Team Folder can be shared externally.
The folders you have access to in a Dropbox Team Folder depend on your roles in an MCommunity group, and on what folder level that MCommunity group is shared: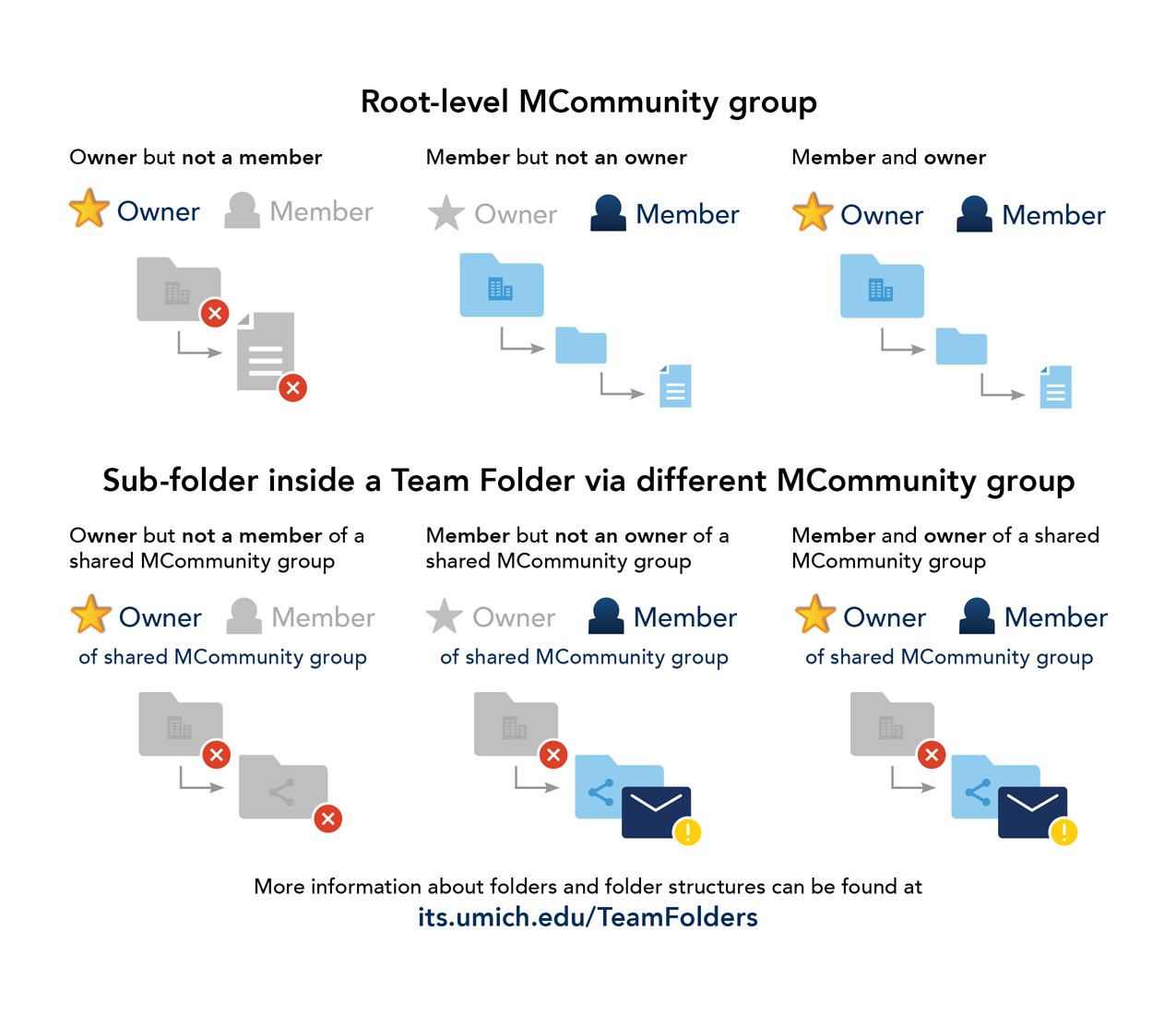 Request a Team Folder
For more detailed information on requesting, creating, sharing, and managing Dropbox Team Folders at U-M, refer to Team Folders in U-M Dropbox. For general information on how to share content inside Team Folders, refer to Dropbox's Team folders: an overview.
Note: Only Owners of MCommunity groups can request to create a Dropbox Team Folder. Members of an MCommunity group should reach out to their MCommunity group owner to request a Team Folder be created for that group.
Warning:
MCommunity groups larger than 1,000 members will not sync to
U-M
Dropbox. Therefore, do not choose an MCommunity group with more than 1,000 members as the owner of Team Folder.
Team Folder Access Infographic
Root-level MCommunity group
If you are...
An Owner but not a member of the root-level MCommunity group:
You can not access main Team Folder or sub-folders
A Member but not an owner of the root-level MCommunity group:
You can access main Team Folder and sub-folders
An Owner and a member of the root-level MCommunity group:
You can access main Team Folder and sub-folders
Sub-folder inside a Team Folder via different MCommunity group
If you are…
An Owner but not a member of the shared MCommunity group:
You can not access main Team Folder or sub-folders
A Member but not an owner of the shared MCommunity group:
You can not access main Team Folder, but can access sub-folders
An Owner and a member of the shared MCommunity group:
You can not access main Team Folder, but can access sub-folders