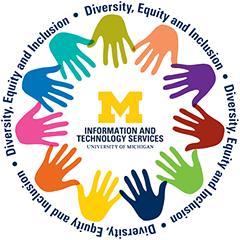 Diversity work is a priority at ITS
Information and Technology Services commits to diversity, equity and inclusion as a means to flourish individually, excel professionally, and advance knowledge in information technology at U-M. Since the inception of our strategic plan in 2017, we set out to accomplish this mission by fostering a climate rooted in mutual respect, drawing on intellectual strength, and producing innovative solutions from the synergy of our people. ITS stands behind the University of Michigan's commitment to diversity, equity, and inclusion—because we cannot be excellent without being diverse, and because it's the right thing to do.
The implementation of our strategic plan allowed us to assess the needs of staff in a way that we otherwise could not accomplish. By setting intentional goals and action items in concert with the Office of Diversity, Equity, and Inclusion's DEI 1.0 domain framework, successfully accomplished most notably:
Summer Internship Program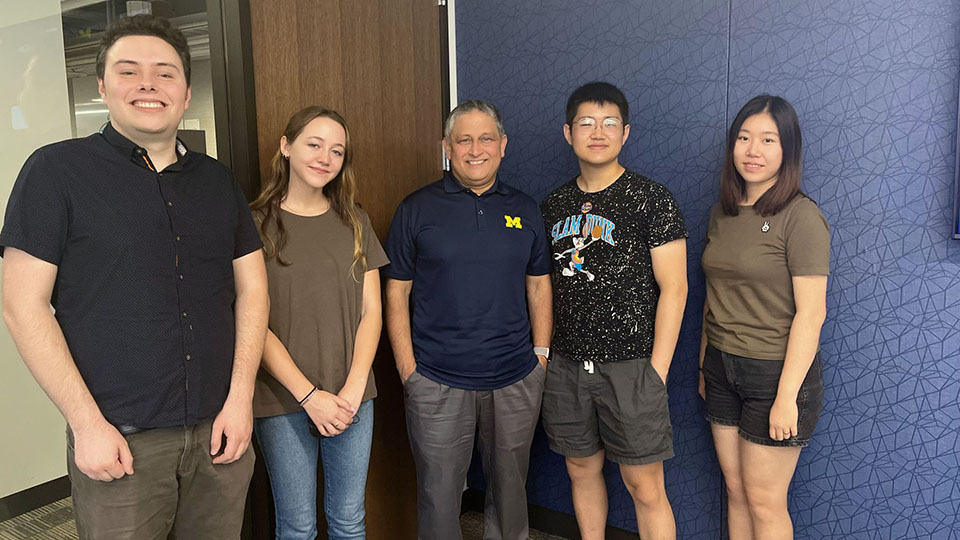 ITS has successfully maintained an annual summer internship program. Each summer, the unit hires 35+ interns, with varying educational backgrounds and interests in IT. Interns are exposed to intentional professional development to help them explore the IT industry. Each intern is matched with a mentor in their field of interest, and challenged through rigorous and meaningful work that leaves a lasting impact on services and projects affecting the entire U-M community. This internship program serves as a pipeline for temporary and full-time hires into the organization; to date, 18 former interns are in full-time roles in ITS or at the University of Michigan in an IT capacity.
Training & Development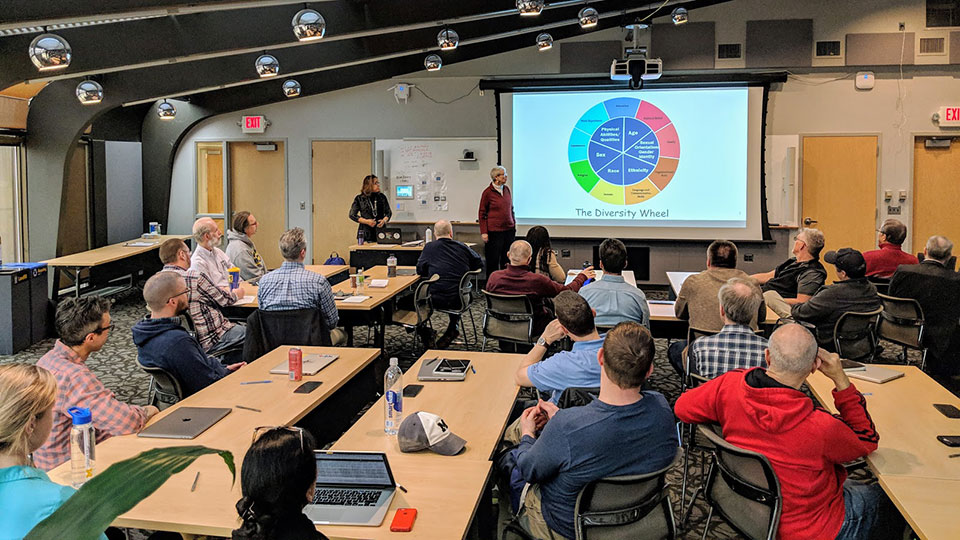 ITS made the commitment in our DEI strategic plan to Identify training resources for employees to develop skills related to DEI (e.g., unconscious bias, bystander intervention skills, facilitating dialog, etc.). This included offering or supporting two to three virtual DEI educational opportunities (including DEI Passport content, training, watch parties, etc.) for staff to engage in per month to increase accessibility of attendance, with an increase of 5% of staff from the previous year having engaged in at least one activity. Since 2017, we have offered 24 classes and 12 watch parties.
Accessibility Scorecard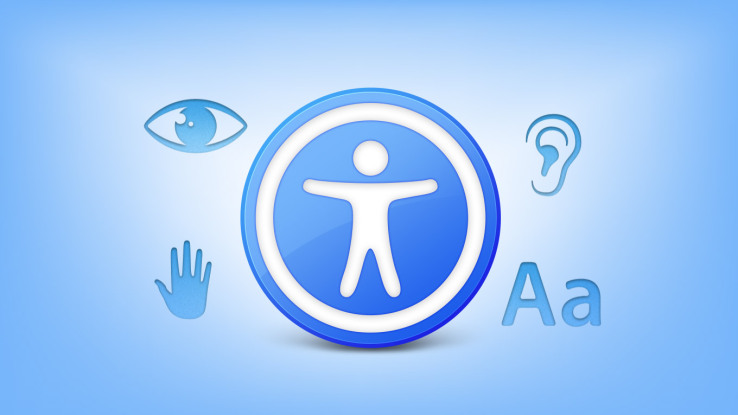 ITS has further developed our need to address accessibility gaps at the University of Michigan relative to technology services and projects by establishing an Accessibility Scorecard initiative. The initial audit of the Accessibility Scorecard targeted 50 services/applications in our Enterprise Application Services department for initial launch. The ITS Accessibility team provided support to any of the services that had a determined need to address. This initiative continues to be expanded to other department services/applications across ITS, and communicated more broadly for recognition across the Michigan IT community.
Adapting to Flexible Work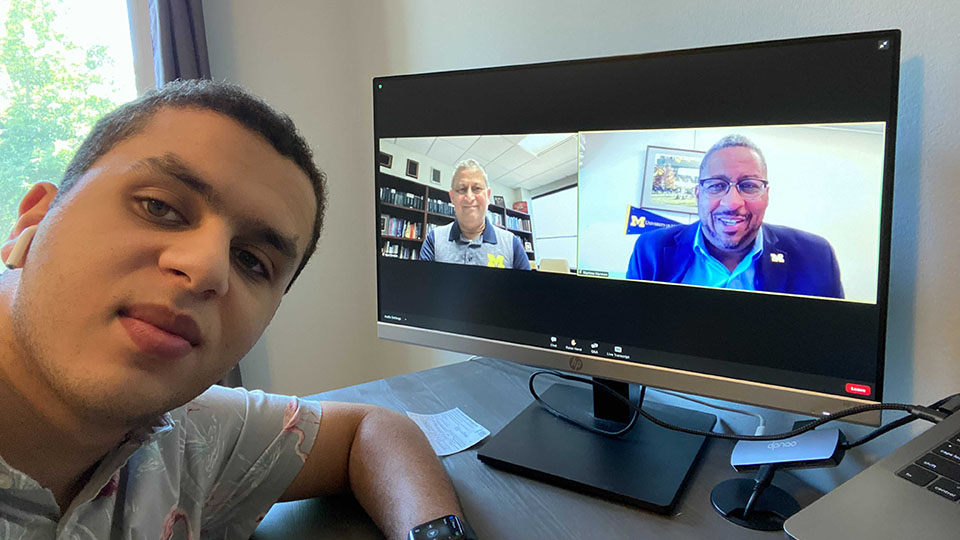 A marker in our DEI strategic plan was the COVID-19 health crisis and how it changed our ability to connect internally and serve the University. Despite the challenges we ensued, we learned just how adaptable we can be in the face of a global pandemic. We did not let these factors halt our progress in creating a more diverse, equitable, and inclusive unit, and we became even more empowered by this adversity to continue our implementation efforts. With about 40 staff volunteers and multiple planning committees to support initiatives, we reacted to the pandemic by providing unparalleled support of staff. ITS created a flexible work team to address plans for a post-pandemic hybrid work environment. This team continues to address any accommodations that will be needed for staff to be able to continue to work remotely or make adjustments to return to campus. ITS has also started investing into the recalibration of how our buildings operate in a hybrid space. We hope to continue to support staff well-being in this way.
DEI Passport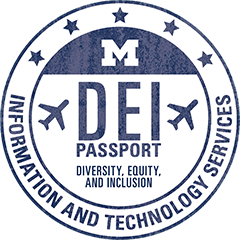 The DEI Passport is a tool for self-directed learning and reflection, and a fun way for us to stay engaged with DEI topics every month. The Passport is a digital platform hosted on the employee intranet that allows ITS staff to explore a variety of suggested DEI workshops, training, and readings that can be applied in their day-to-day work, aligned with U-M's lifelong learning model. Staff are asked to complete at least two suggested activities per monthly "destination" as well as a written self-reflection (private to them) in order to earn a digital stamp. Within our DEI 1.0 efforts, 32 passport modules were created (302 activities) for 481 participants.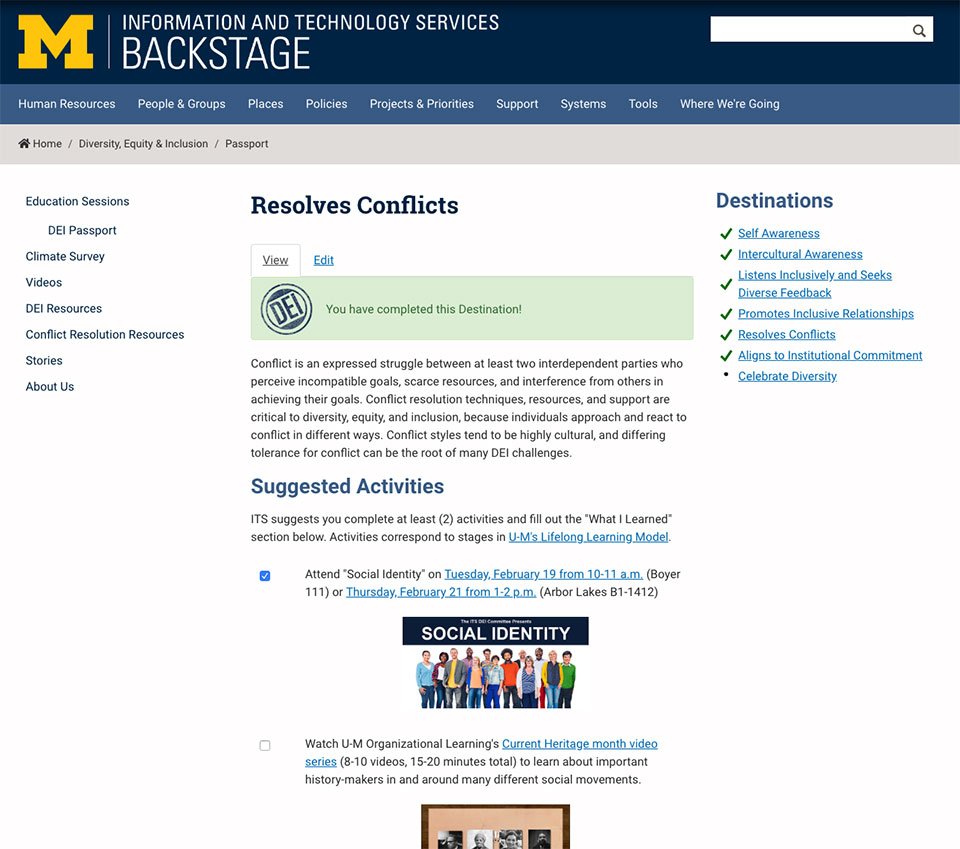 Words Matter Task Force
The Words Matter Task Force was developed in July 2020. To effectively communicate with customers, it is important for ITS to evaluate the terms and language conventions that may hinder effective communication, harm morale, and deliberately or inadvertently exclude people from feeling accepted to foment a healthy and inclusive culture. As an organization, ITS has a laser focus on customer service and strives to be sensitive to customers and their needs. By using inclusive language, ITS is able to design and build better tools and services to meet customers' needs.
Given the importance of communication and the ITS core value of inclusivity, the Words Matter Task Force was formed and charged with identifying terms used within ITS that are, or can be construed to be, racist, sexist, or non-inclusive. The Task Force created a recommendations document to highlight the importance of inclusive language, suggest new artifact naming standards, and provide guidance for further organizational development.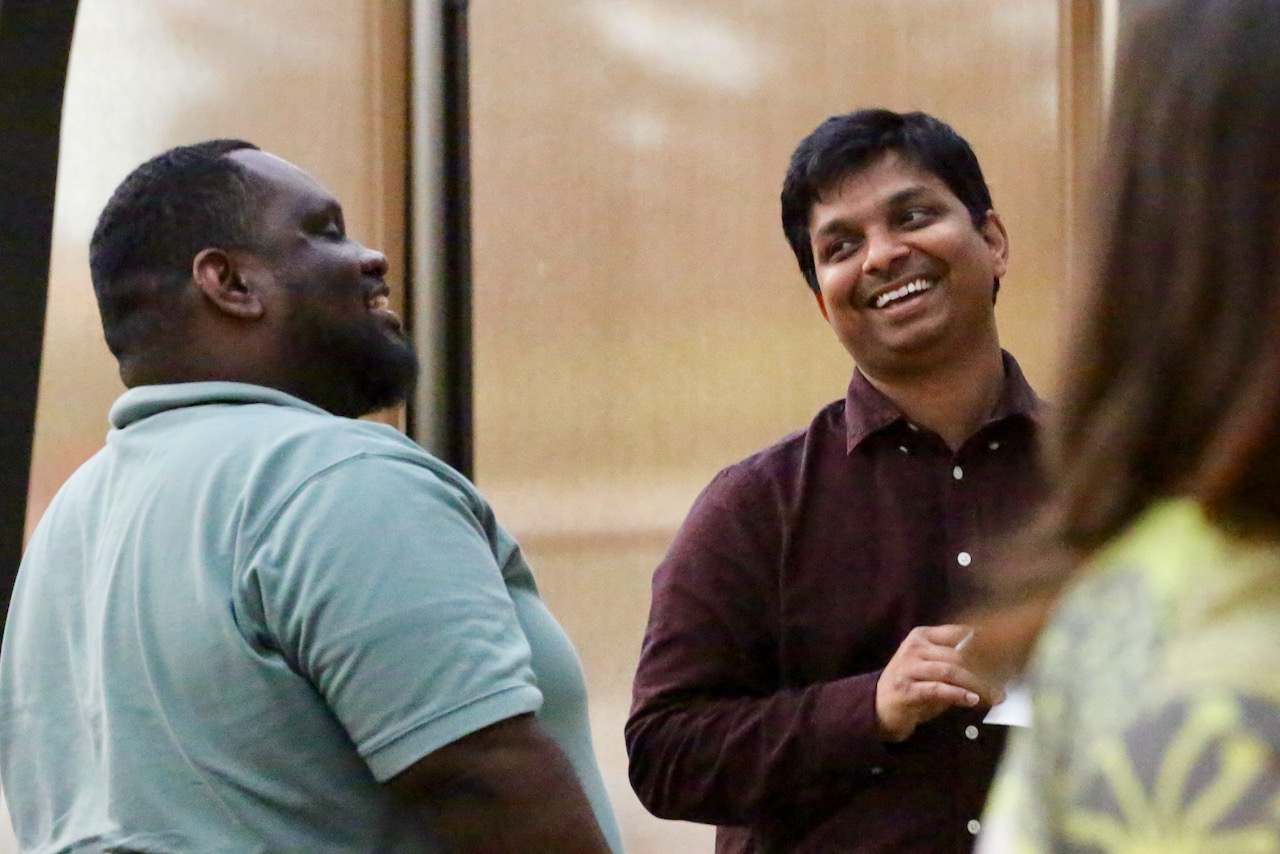 Virtual Town Halls
Vice President for Information Technology and Chief Information Officer Ravi Pendse hosted regular monthly town halls to keep all staff engaged. Several times in these spaces, topics in DEI would be a focus. For example, LSA Dean Ann Curzan joined a Town Hall session to discuss linguistics and accessibility, a topic of high interest to ITS in how we can continue to support students, faculty, and staff in this way. The town halls provide a space for staff to learn, engage, and ask important questions to Sr. Leadership in our unit.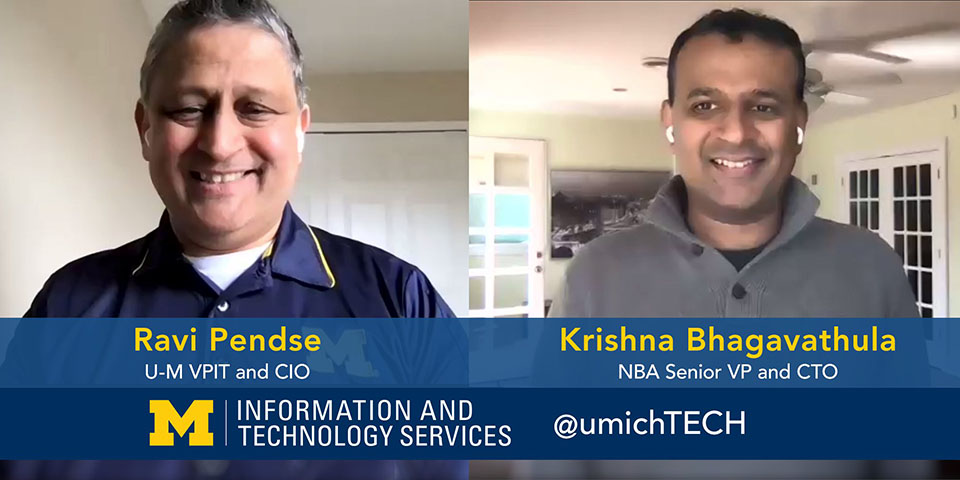 Among these accomplishments is also humility in that we were able to engage nearly 40 ITS staff members in the planning and execution of our strategic plan, which does not include our stakeholders in executive leadership who were the driving force in helping us move the needle forward.
As we begin planning for DEI 2.0, it is important to also reflect on the challenges we faced throughout the last five years. Some of our lessons learned consider:
Ensuring staff are offered DEI engagement opportunities during the right time of year to increase participation and meaningful dialogue. There are times staff have expressed there are conflicting priorities from other work commitments, limiting their ability to participate in our initiatives. Timing is everything, and keeping DEI at the forefront means we need to be strategic when promoting DEI opportunities within ITS. We also hope to work closely with department leadership in understanding how we can integrate DEI programmatically into already-existing staff meetings, training, etc.
Utilizing and supporting campus-driven DEI materials and events. We are fortunate to be a part of a larger campus community that is rich with educational resources and leaders relevant to DEI. ITS would like to partner with community members in programmatic planning and take advantage of already-existing opportunities. This will allow our unit to engage with the campus as a whole on a more regular basis.
Enhancing our career pathways and ensuring staff are given on-the-job training and growth opportunities more regularly. To accomplish this, we have recently hired an Organizational Development and Training Specialist Lead who will begin assessing professional development needs across the unit.
Continuing to support staff well-being. Our 2021 climate survey results addressed our self-reported mental health needs, and we hope to embrace this data to encourage mindfulness and use of available campus resources.
Get Engaged with DEI
Work at ITS?
Send us an email at [email protected].
Our subcommittees work in four main areas:
Recruitment, retention, and development
Promoting a diverse, equitable, and inclusive community
Education and scholarship
Service
Not at ITS?
See our complete DEI Strategic Plan and and check out our Guiding Principles for Accessibility. We'd love to hear your feedback. Send us an email at [email protected].