View a list of known issues you may encounter during the stabilization period. ITS is continuing to work as quickly as possible to resolve these issues.
The M-Pathways Student Administration go-live date is May 21, 2018.
This upgrade will require an extended outage of the M-Pathways Student Administration system beginning at 5 p.m. on Thursday, May 17, 2018 and ending at 6 a.m. Monday, May 21, 2018. The outage will impact all users of the M-Pathways Student Administration application, including Wolverine Access Student Business and Faculty Business, New & Prospective Student, Undergraduate Orientation, Parents and Family - My Students Information, MCommunity Sponsor System and those who connect through RDAs, Integrations and APIs.
The Data Warehouses will be refreshed at their regularly scheduled times once the outage is complete. Check the Data Warehouse Refresh Schedule for the last refresh date.
This upgrade brings a review of processes, an opportunity for future advancements to meet the needs of our students and faculty, and updated training and support. Additionally, it positions U-M to better leverage future enhancements from the vendor and continue timely implementations of bug fixes and regulatory releases.
Current Timeline:
Fit/Gap: complete
Development/Re-apply Modifications: complete
System Testing: January 8-April 25 — complete
User Acceptance Testing (UAT): March 14-April 18 — complete
End to End Testing: April 2-20 — complete
Roll-out: May 17-20 — complete
Stabilization: May 21-June 29
Upgrade Changes
New Style to All Pages
All pages in M-Pathways Student Administration and Student Business will have a new look!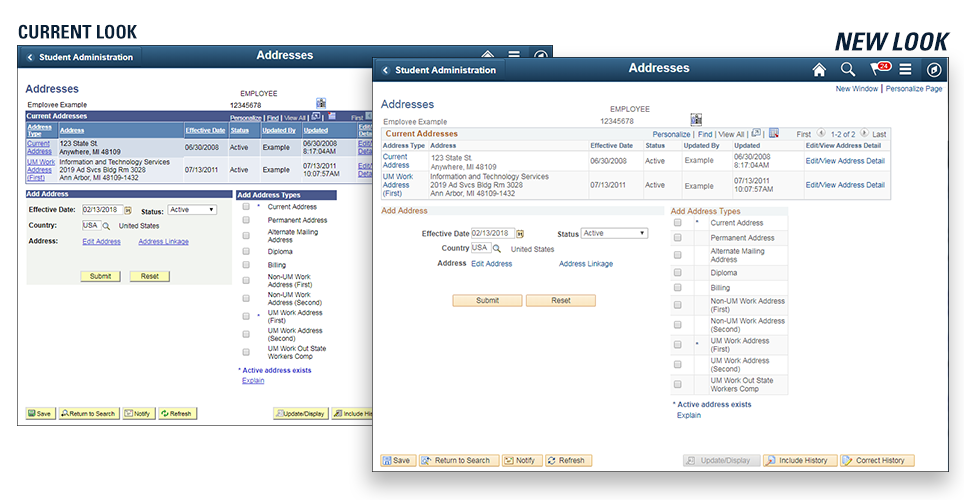 New Search
A new Search icon has been added to the banner. This icon replaces the Search tile.
Longer Descriptions on drop-down fields
Some fields now display longer descriptions of valid values.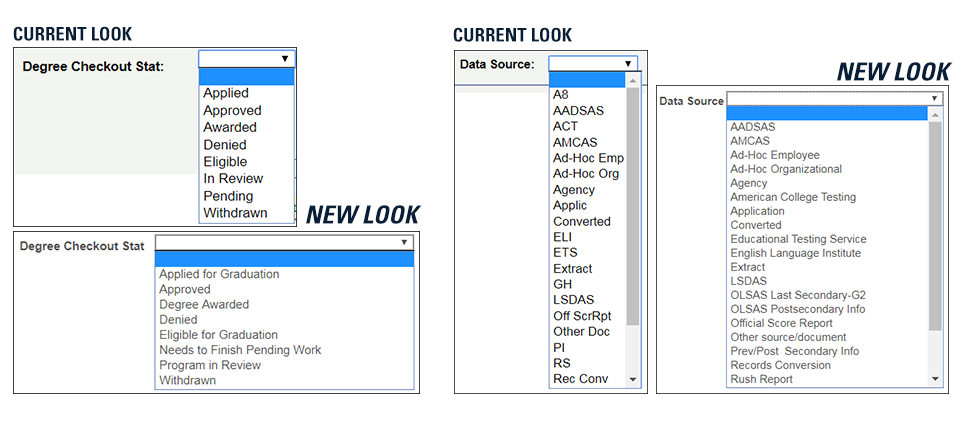 Push Notifications - available for select audiences
Push Notifications are located in the banner.
Click on the number flag to display a summary.

Click Alerts to show details of all active alerts.

Push Notifications are driven by Process Scheduler events. These events are most common when running a report in M-Pathways when you click Run and then OK on the Process Scheduler Request page.
Push Notifications appear after a process completes successfully.

The notification appears when you log off and log on again, or click on New Window, or wait approximately 10 minutes.

The Push Notification contains a link to the report. You don't have to navigate to Report Manager to find it!
Clicking on the X removes the notification from displaying when the Alerts button is clicked.
Clicking on the View All hyperlink displays all notifications received in the past 3 days, even the ones you removed. After 3 days, notifications are permanently removed, even the ones you ignored.
Note: There are processes that require you to use the Process Scheduler but do not generate a report (many of those do generate an error report). Since the Push Notifications are driven by Process Scheduler events, you will get a push notification every time you click Run and then OK on the Process Scheduler Request page.
CENTRAL OFFICE USERS
Some central office users sign onto a batch ID. Batch IDs will likely see more push notifications than individual staff.

Nearly every batch process runs through the Process Scheduler.
The batch processes that are scheduled automatically will create push notifications, as well as any that run "on-demand" due to a special request.
My LINC Training Resources
In conjunction with the upgrade, many of the Student Administration training materials available on My LINC have been updated and will continue to be updated after the upgrade. Much of the document contents remain the same due to very little change in the system, but updated screenshots and navigations have been included along with converting old documentation to a new HTML format which allows for more flexibility and accessibility. Links to current documents may change. If you have bookmarked any current documents, be aware that the URL may have changed and the bookmark will no longer work.