The following M-Pathways pages have been updated:
New Time Reporting
Tips for Approvers
If you'd like to approve time similar to using the previous timesheet, use the Enter Time page. To view a system demonstration, start at minute 2:52. Desktop/Laptop/Tablet - Time and Labor WorkCenter 
Learn More!
Overview of Change - a document that will assist current time reporting users with the new tiles and options available.
Video Overviews!
Presentation and system demonstration videos are listed below. The presentation videos include a recent presentation to campus, Q&A that occurred during the meeting, and a system demonstration. If you'd like to view just the system demonstration, click the appropriate link below the presentation video.
Michigan Medicine
In addition to the resources above, Michigan Medicine Human Resources has posted resources and videos on their website to assist MM staff in the transition.
Time reporting will have a new look and feel!
Information and Technology Services (ITS) is working with partners in schools, colleges, and across the university's three campuses and Michigan Medicine to roll out a new design and additional functionality to time reporting. The upgrade will impact all employees who report, approve, or modify time. The upgrade will support a more mobile-friendly time reporting experience and ensure that the university maintains vendor support.
*What will change?*
The Timesheet is no longer one page.
New options have been added to report time.
Your method of time reporting (Punch User, Webclock, Elapsed Time, etc) will determine which tiles you see.
Your device (desktop, mobile etc.) will also determine which tiles you see.
The Time and Labor WorkCenter has also been updated (this is primarily for managers and timekeepers). 

Personalized Homepage tiles or Favorites to the current Timesheet
*What will not change?*
Processes and procedures
Time reporting dates and pay cycles
Time Reporting Codes (TRCs) and Static Groups
Queries
Help Communicate!
Toolkit - a document with resources any department/unit can use to help communicate the time reporting changes to their department or fellow staff members. 
View Leave Balances Page
Faculty and staff who are enrolled in leave plans maintained in M-Pathways can view leave balances page within M-Pathways Employee Self Service. The page is mobile-friendly.
View Leave Balances Page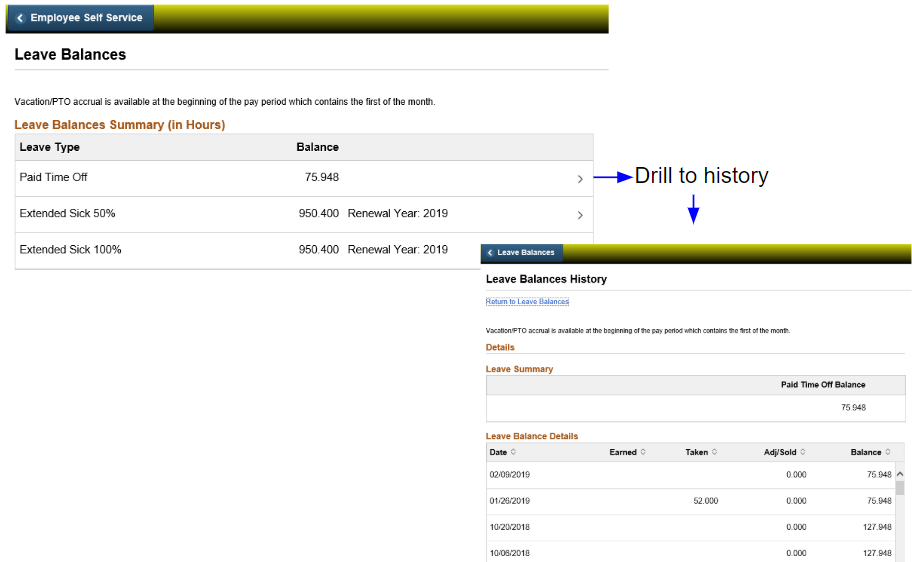 The View Leave Balances page displays:
Current leave balances.
The ability to drill down in each category to see accruals and usage along with the respective balance.
Paycheck Page
Faculty, staff, and student employees can view their paycheck page within M-Pathways. The page is mobile-friendly and includes additional analytics not available on the desktop version. 
Payroll and Compensation Desktop View

Updated look using the desktop version - PDFs still open in a new window when a check date is selected
Help for the Pay page is available using the Self Service Help tile on the Employee Self Service homepage.
Pay Page with Filter and Sort Options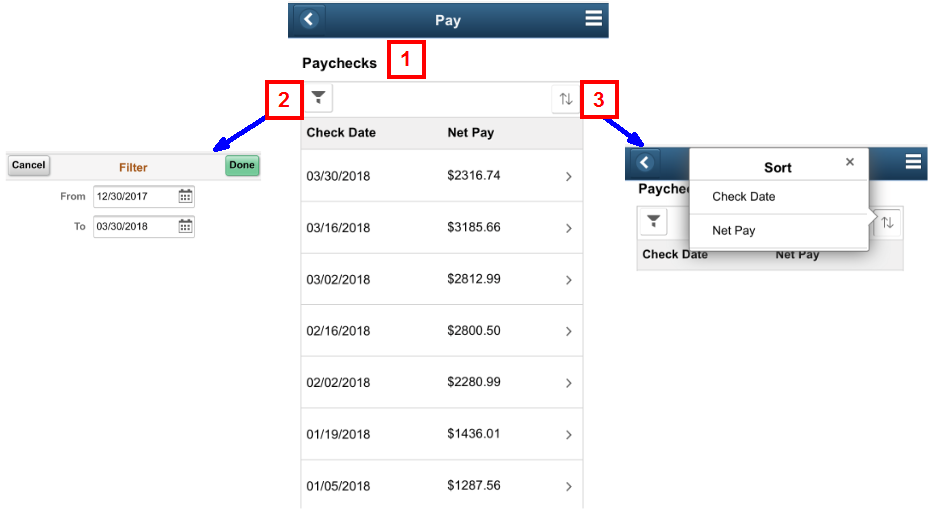 Displays most recent checks in descending order
Filter option allows you to change the range of dates shown
Sort option by check date or net pay
Mobile-Friendly Pages - Phone View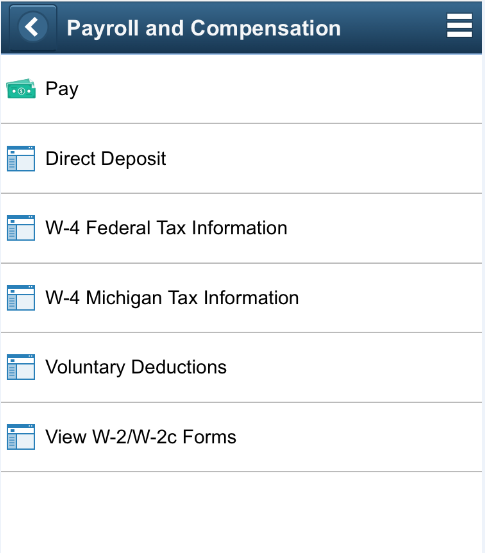 Paycheck Summary View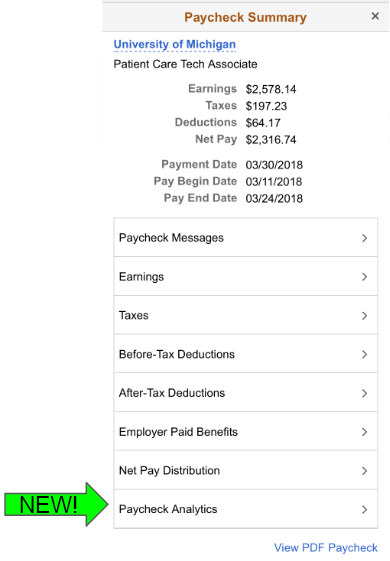 Summary of pay in header
Tap to drill into details of earnings, taxes, etc. and see same info as on paycheck advice
Paycheck Analytics available
Tap "View PDF Paycheck" to launch current version, print using MPrint Mobile App
Earnings View (example)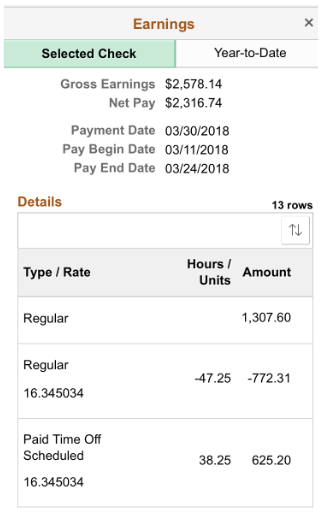 Displays the same information as View Paycheck
View by Selected Check or Year-to-Date amounts
Tap Year-to-Date to see earnings earned throughout the year
Paycheck Analytics View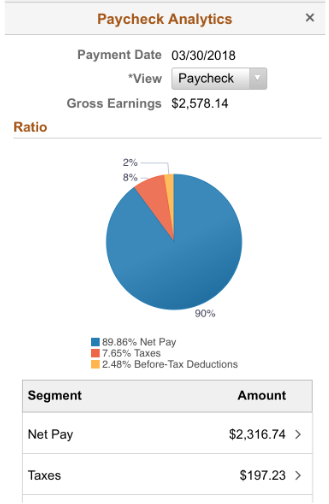 Analytics only available on phone
Displays breakdown of amounts for current pay check
Mobile-Friendly Applicant Experience
The web pages that appear after clicking "Apply Now" from the Careers website will be more mobile friendly and responsive, along with a new look and feel. The new streamlined application eliminates the degrees and employment preferences sections in addition to the comments sections that appear when the applicant answers "Yes" to the nepotism or conflict of interest questions.
Landing Page
The landing page includes the ability to view jobs posted in the last 7 days.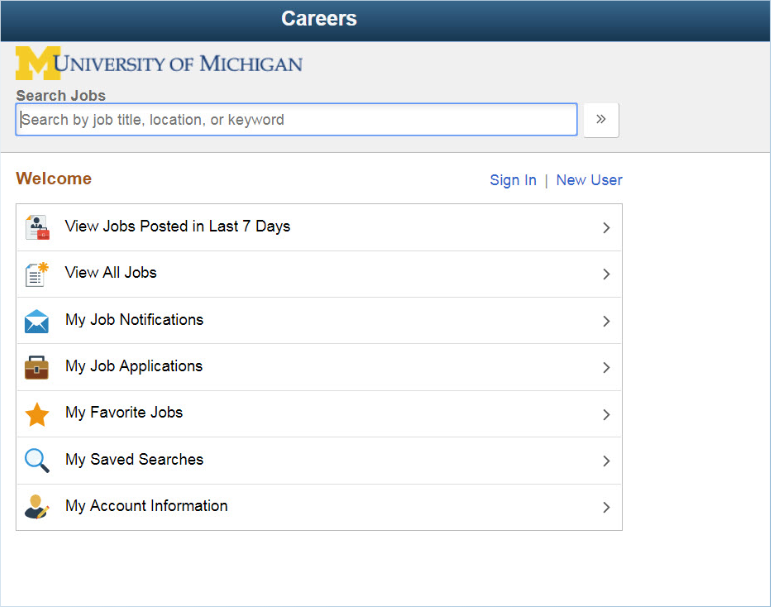 Desktop view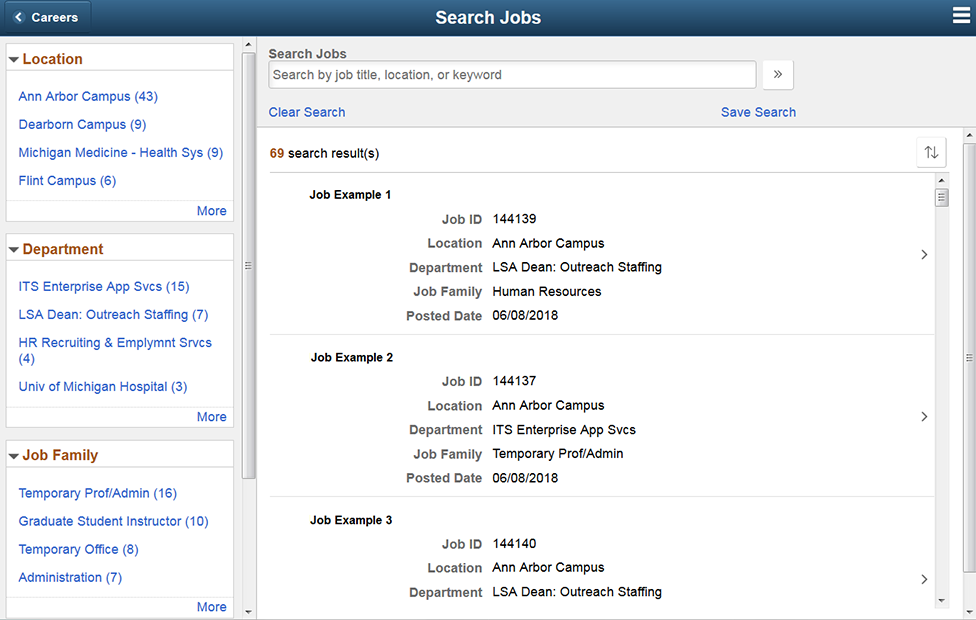 Phone View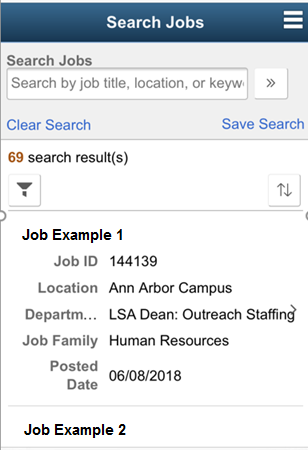 Desktop View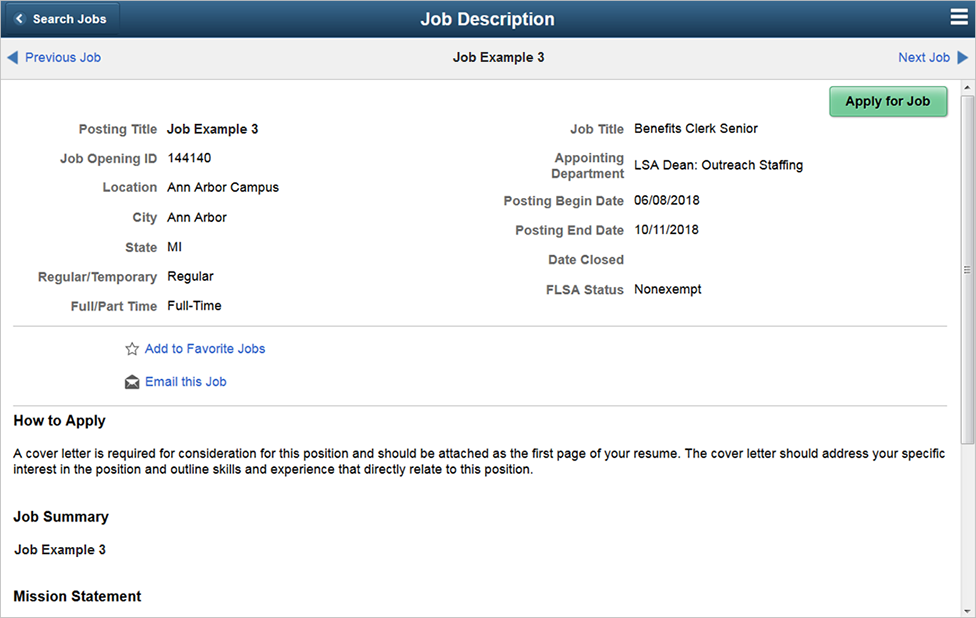 Phone View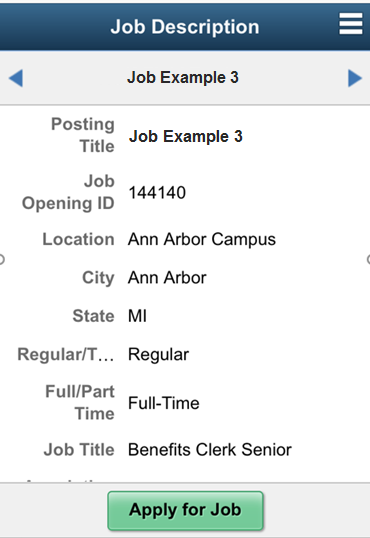 Activity Guide
The activity guide indicates the application steps to complete. All applicants will be required to agree to the terms and conditions before submitting an application.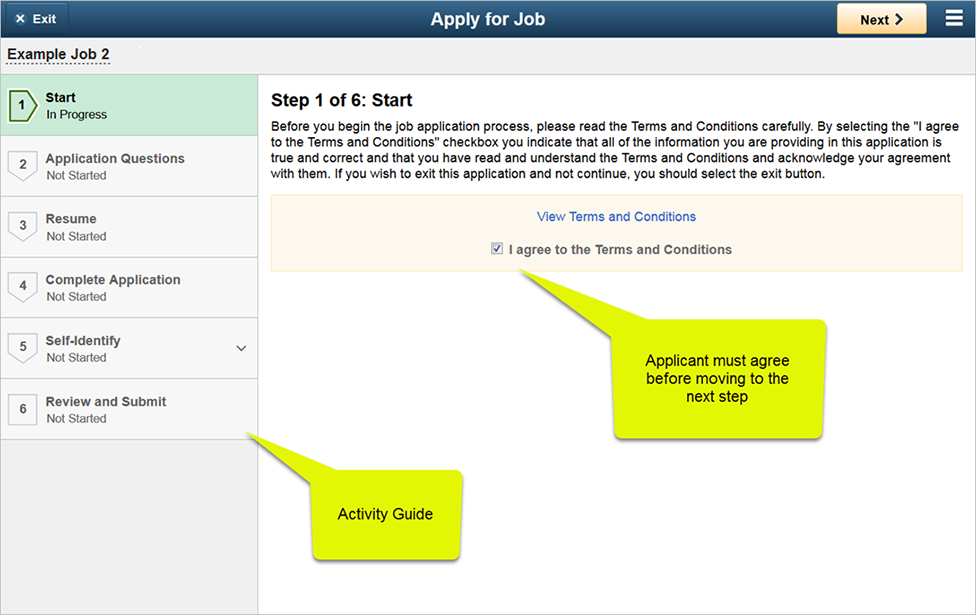 The Application Questions page includes all current questions, however no comment box displays when an applicant answers "Yes" to the potential conflicts or known relatives questions. The Yes/No responses display on the Applicant Summary reports.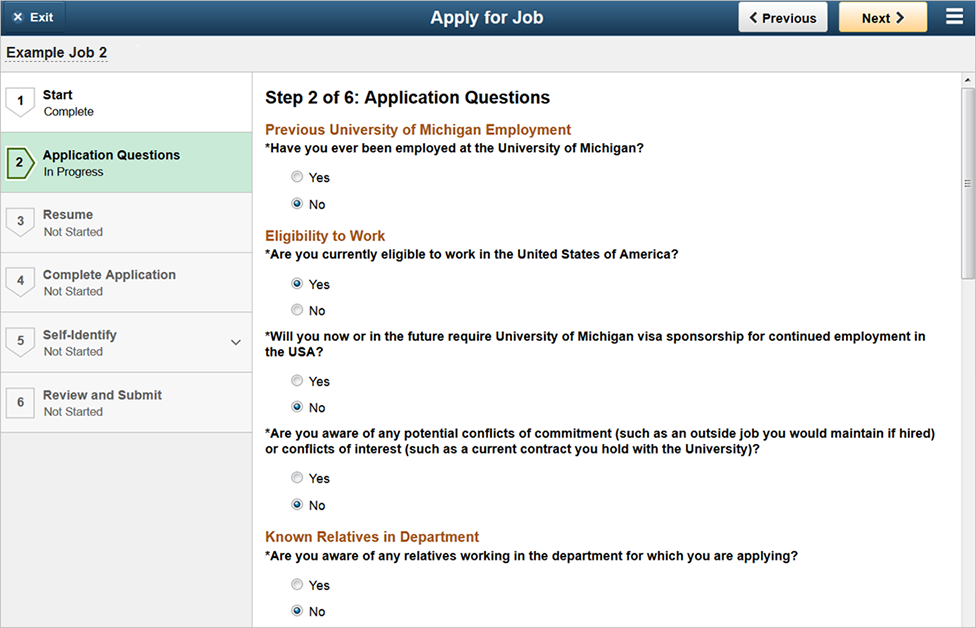 The resume upload page has no changes.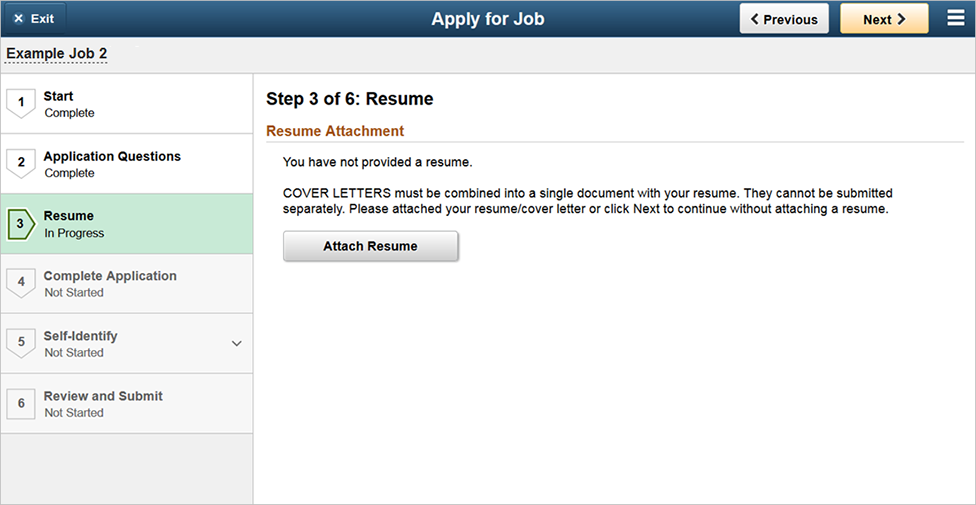 The sections for Employment Preferences and Degress have been removed from the Complete Application page.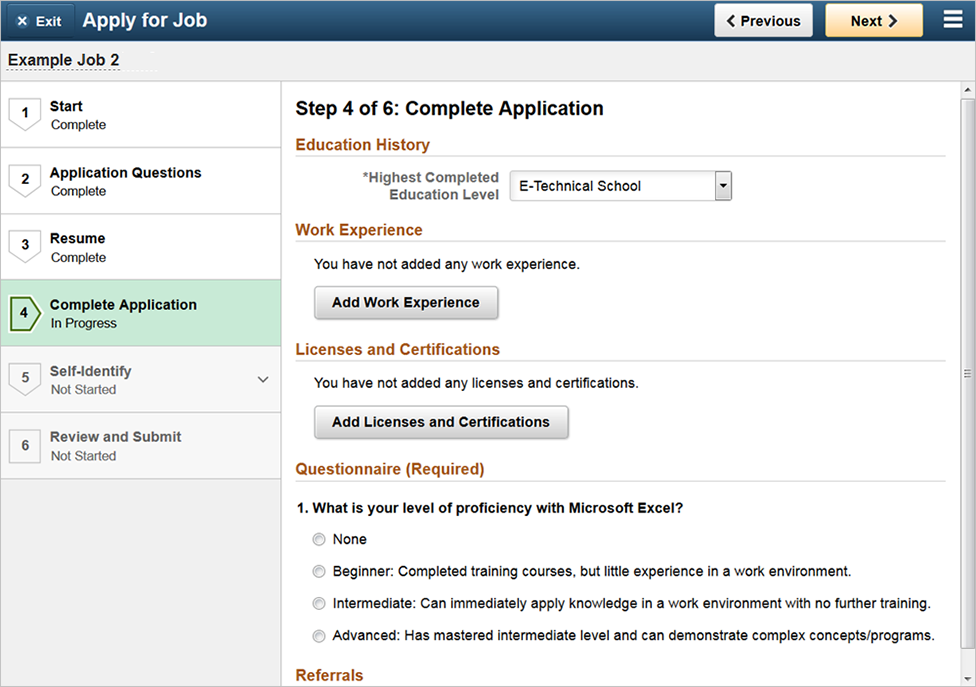 There are no changes to the optional Self-Identify pages.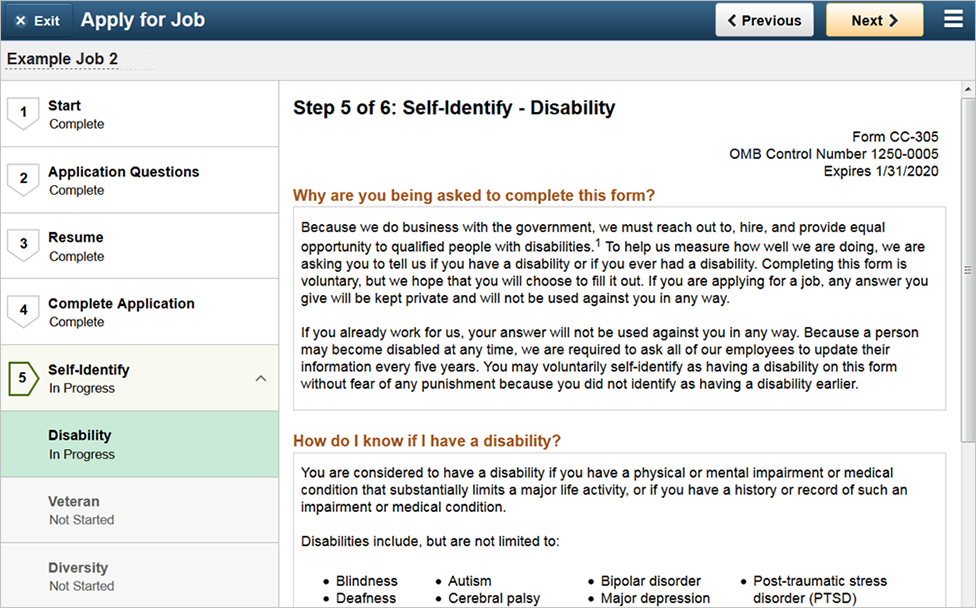 On the Review and Submit page, applicants can expand any section to review the information before submitting the application.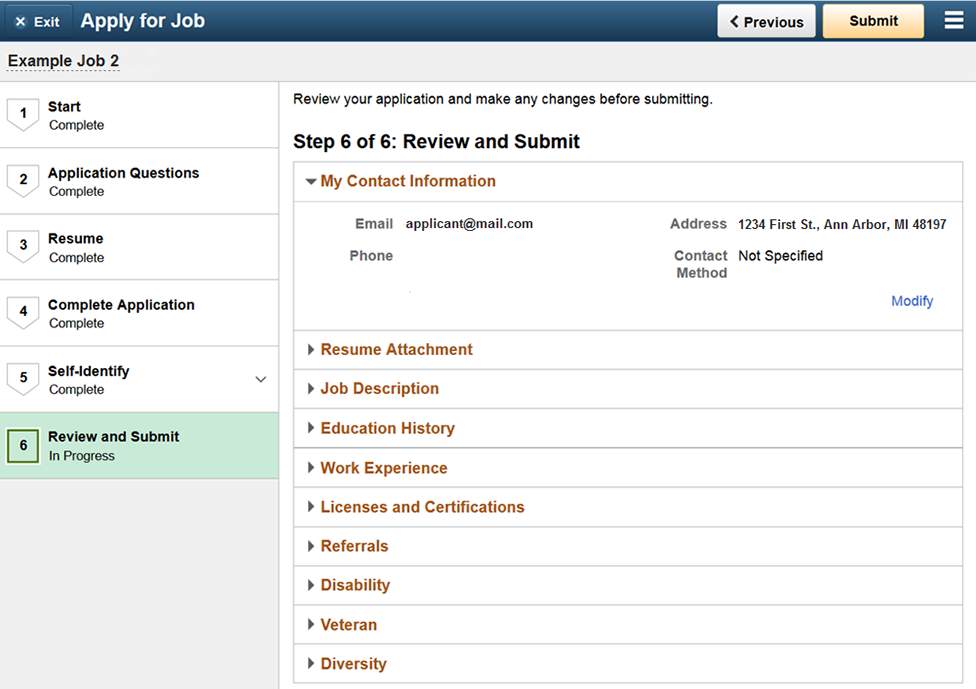 From the Confirmation page, the applicant can return to the Careers home page or view the submitted application.