Slack workspaces are designed for a large number of channels for one unit/department to collaborate and share files easily. Workspace members can join or leave public channels as they choose and create or delete private channels when needed.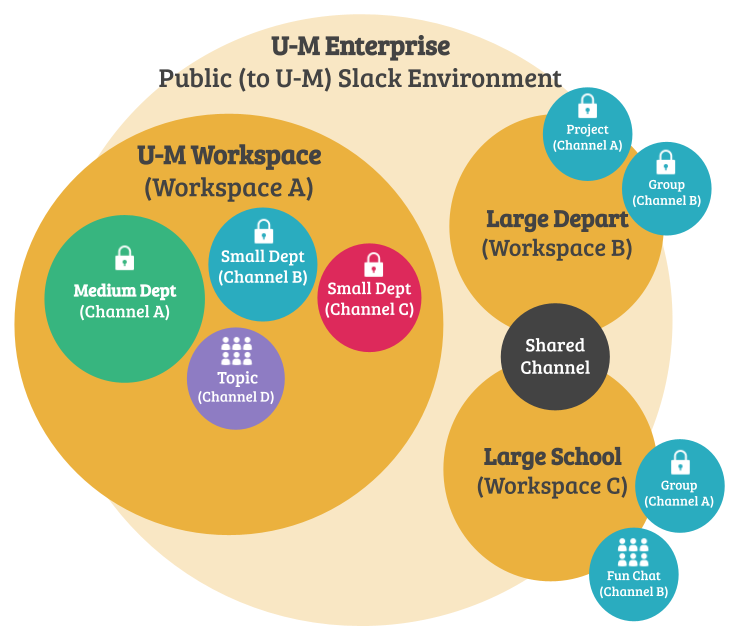 Workspaces
Workspaces are separate instances of Slack that sit in the U-M Slack environment. A workspace has its own administrators and permission settings and its own members, channels, and apps to enable a large group of people to collaborate long-term. Refer to Creating U-M Slack Workspaces to review options for creating a workspace.
Note
: You must create a
U-M
Slack account at least 
24 hours
before attempting to create a Slack workspace. Refer to
Getting Started
to create your
U-M
Slack account.
Important
: You
cannot
use the "
Create a new workspace
" button in the Slack desktop app. You must access the
documentation
for the appropriate links.
Channels
Channels are context-based conversations where groups of people can communicate and interact with information related to a common topic (e.g., a project). These can be public or private and can be within a workspace or shared across multiple (shared channels). Refer to U-M Slack: Channels & Workspaces Comparison for more information on the differences and use cases.
Public channels are open to anyone in the workspace (i.e., not open to the general public) to join.

Individuals must be added to a private channel by a current member of the channel. Any messages or files posted in a private channel are only viewable by members of the channel.
Slack Organizational Model
U-M Enterprise Public (to U-M) Slack Environment

U-M Workspace (Workspace A)

Medium Department (Channel A)
Small Department (Channel B)
Small Department (Channel C)
Topic (Channel D)

Large Department (Workspace B)

Project (Channel A)
Group (Channel B)

Large School (Workspace C)

Group (Channel A)
Fun Chat (Channel B)
Shared Channel with Large Department (Workspace B)