In an effort to bring you the latest on new features and functionalities, we will be introducing service-specific summaries for Slack, similar to what we currently offer for U-M Google. These summaries, however, will not be posted on a monthly basis like Google's, as Slack updates less frequently.
Updates:
Slack announced they will be making adjustments to and combining your "saved items" and "reminders" into a new sidebar view called "Later." The changes include: 
New name: In your sidebar, "Saved items" is now called "Later."
New ways to organize your to-do list: Your saved items are now broken up into three tabs: In progress, Archived, and Completed to help you differentiate your work. (Note that any previously saved items will appear in the Archived tab but can be re-sorted to other tabs.)
New location for personal reminders: Any reminders you've set for yourself now appear alongside other items in the new In progress tab, where you can mark them as complete or change the reminder's timeframe. (Note that channel reminders and recurring reminders will only be visible using "/remind list" and will not appear in Later.)
These changes are rolling out gradually starting in March and may take a while before they're fully visible to everyone in U-M Slack.
Once you've joined 30 channels in a workspace, your sidebar settings will switch to Unreads only. You can change this via the Sidebar section in your Preferences. This change is rolling out gradually starting in March and may take a while before it's fully visible to everyone in U-M Slack.
When adding an emoji with multiple people, you can right-click to customize the skin tone of each person. (Note that this does not apply to custom emojis.)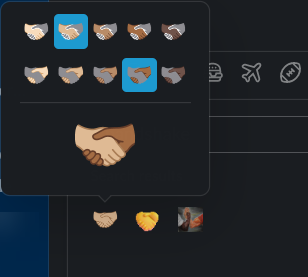 Last October, Slack added a bunch of new features to huddles. These additions include the ability to:
Turn on video
Open a huddle in a new pop-out window
Start a dedicated message thread for notes that automatically saves to the channel or direct message conversation
Have multiple people share their screens at once
Set a topic and pick a custom background
Use emojis, reactions, and stickers
Learn more about using these features and others in Slack huddles.
Add additional people to direct messages
You can include conversation history when adding people to an existing direct message or group conversation. Previously, conversation history wasn't preserved.
Previously Communicated: