What is Informatica Cloud?
Informatica Cloud is the cloud-based version of our current on-premise Extract, Transform, and Load (ETL) product designed to perform large data operations. Informatica Cloud is an on-demand subscription service that provides a complete platform for cloud integration and data management. When you subscribe to Informatica Cloud, you use a web browser to connect to the service. You can configure connections, create users, and create, run, schedule, and monitor tasks.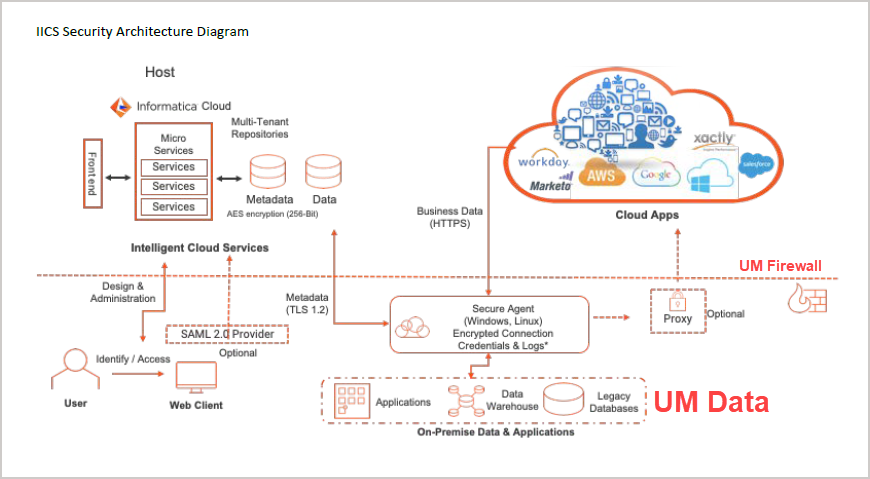 Informatica Cloud includes the following components:
Informatica Cloud web portal
Informatica Cloud provides a web portal for developers to log in to their proprietary cloud-hosted environment to design the mappings, tasks, and necessary metadata for executing their tasks. Users will be authenticated using

U-M

Weblogin with Duo two-factor authentication, and authorization is based on user groups defined by the ITS DISC team within the product.
Informatica Cloud Secure Agent
The Informatica Cloud Secure Agent is a lightweight program that runs all tasks and enables secure communication across the firewall between

U-M

and Informatica Cloud. You can run one Secure Agent on a MiServer (Windows/Linux). After you install a Secure Agent, all Informatica Cloud users in the organization share the Secure Agent. When the Secure Agent runs a task, it connects to the Informatica Cloud hosting facility to access task information. Then, the Secure Agent connects directly and securely to sources and targets, transfers data between sources and targets, and performs any additional task requirements. Informatica Cloud Secure Agents provide the execution platform to run the data integration tasks you configure within Informatica Cloud. A Secure Agent can run within your network.
Connectors
With connectors, you can access data from cloud and on-premise applications, platforms, databases, and flat files. Use connectors to specify the location of sources, lookups, and targets included in a task. You can create a connection for connectors that are installed in Informatica Cloud. Many connectors are pre-installed in Informatica Cloud. However, you might want to use a connector that is not pre-installed. Add-on connectors created by Informatica Cloud and Informatica Cloud partners are available for installation.