The Office of Budget and Planning (OBP) administers the process that attributes tuition and fee revenue to U-M Schools and Colleges as part of the General Fund Budget Model. Tuition Attribution reports detail how this revenue is distributed by Unit of Registration and by Unit of Instruction. They are designed to support Unit Budget Administrators with the annual General Fund budget cycle at U-M.
Overview
These reports provide:
A high level summary that compares budgeted and actual tuition and registration fee revenue
Detailed comparisons of projected and actual unit registration head count equivalent and unit revenues (tuition and registration fees)
The ability to drill down to student details by clicking actual amounts from enrollment or instruction.
Data can be exported to Excel for additional analysis.
The Tuition Revenue Summary report shows high level tuition attribution information for a school, organized by career level.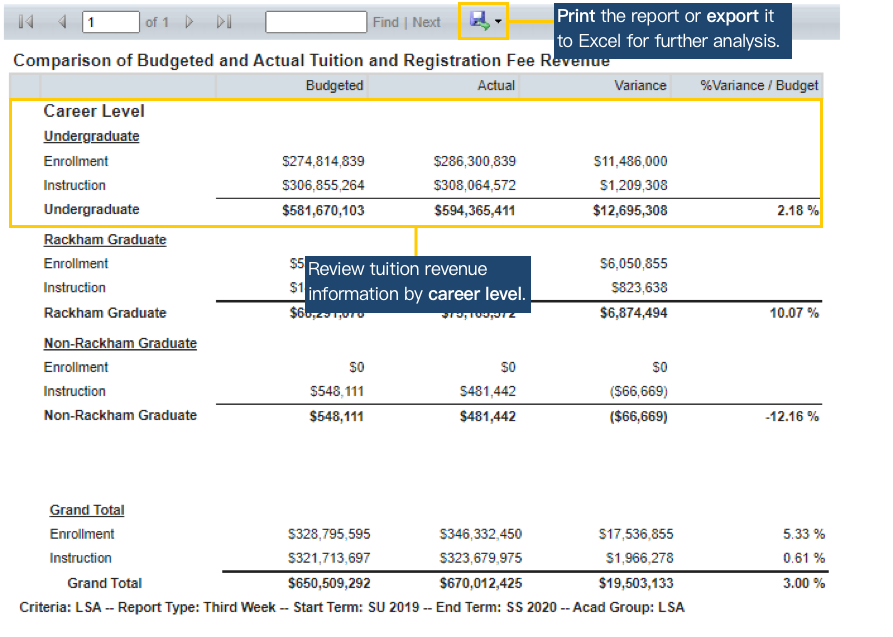 The Total Students report compares registration (HCE) information with revenue and shows variances between projected and actuals in each category.

Access Details
Who needs access?
Users who are responsible for budget administration need to use Tuition Attribution reports.
How do I request access?
Access is limited primarily to Unit Budget Administrators. For information about access, contact the Office of Budget and Planning.
Data Sources
| Sources | Sets & Dictionary | Refresh Schedule |
| --- | --- | --- |
| Tuition Attribution Reports contain data from Student Administration data tables (csprod). | N/A | Data is updated by the Office of Budget and Planning |