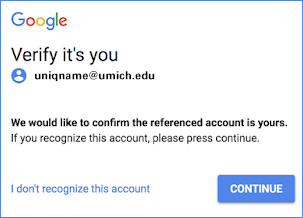 Beginning Monday, May 7, Google is rolling out a new security feature that requires people to verify their identity when using the Chrome web browser to log in to Google at U-M. Learn more about the security feature on the U-M Safe Computing website.
You will receive the prompt from Google asking you to verify your identity on your MiWorkspace computer and personal devices. You will not see the verification screen if you are using another web browser—such as Firefox or Safari—or if you are using an app, such as Gmail on a smartphone.
Security Tip: In general, clicking a button to confirm an address poses minimal risk. However, you should be suspicious of prompts for your username and password (see Look Before You Log In).
Turn on two-factor for additional protection
If you haven't yet turned on two-factor for your UMICH account to protect your Google at U-M account and your direct deposit and other personal information in Wolverine Access, we encourage you to turn on two-factor for U-M Weblogin.