This information was emailed on December 15, 2016, to members of miworkspaceupdates@umich.edu.
The MiWorkspace Print team supports nearly 2,000 printers on campus—1,530 as part of MiWorkspace and 405 located in Campus Computing Sites. The number includes over 300 different types of printers, including color, poster, multifunction devices, and even dot matrix. Over 44,000 unique people have printed more than 59 million pages this calendar year, averaging about 177,500 pages each day.
A new printing method will be available early next year as part of the Bring Your Own Device strategy. Using the new app on your mobile device, you will be able to release documents in your Follow Me queue to a nearby printer, without using your Mcard. The technology will be piloted at select Campus Computing Sites and at University Housing locations before wider release. The MPrint app will be available in the Apple App Store and Google Play.
The supplier for university multifunction devices (MFD), including those supported by MiWorkspace, changed to Xerox in a new universitywide contract negotiated by U-M Procurement Services. In addition to saving the university $15 million over six years, a showroom of different types of MFD will be available for units to visit when considering new printers.
Much of the printing service happens behind the scenes. The Print team developed tools to assist in maintaining each of the 2,000 printers to create a better printing experience for the U-M community. The team maintains a support tool to manage printers remotely. The tool can cancel print jobs, print test pages, report on toner status, and temporarily inactivate the queue for maintenance. 
Learn more about printing using MiWorkspace printers.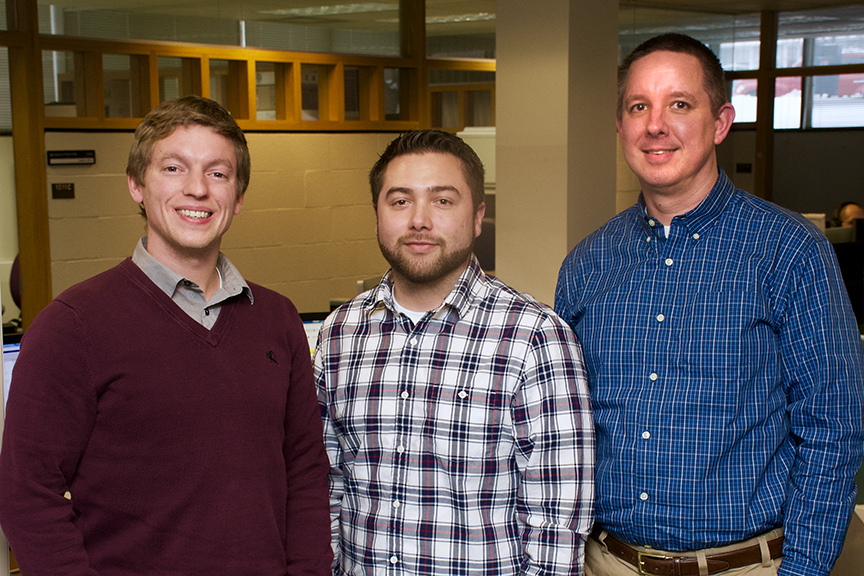 Members of the MPrint team, left to right: Brendan Dailey, Andrew Ronewicz, and Tommy Coe.