February 2018
The PeopleTools infrastructure that supports the M-Pathways Financials & Physical Resources System is being upgraded. Much like the upgrades for Student Administration (SA) and Human Resource Management System (HRMS), we expect the impact of this change to your unit's users to be minimal. This upgrade keeps U-M current with PeopleTools technology and enables continued support from PeopleSoft, which allows:
System functions and reports to work properly
Federal regulatory releases to be applied
Security patches to be placed
Compliance with new web browsers and versions
Product enhancements, including mobile and responsive design
Service Interruption
The M-Pathways Financials & Physical Resources System will be unavailable from noon Saturday, February 10, to noon Sunday, February 11, while the system is being upgraded.
What's Changing
We expect the impact to unit users to be minimal. Processes and procedures will remain the same. This upgrade's most notable difference is more user-friendly navigation.
Note: Your specific access will determine what you see on your page. Below is an example of the Financials Homepage.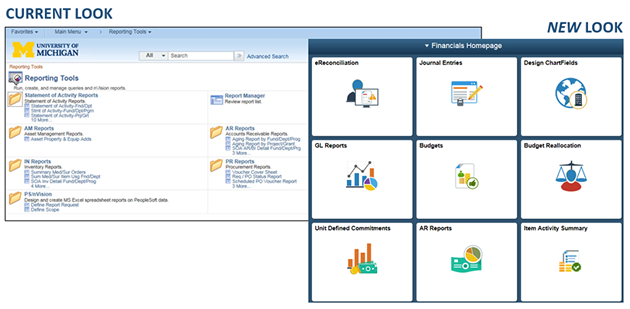 Navigating the New M-Pathways
The Navigating the New M-Pathways document provides information on navigating and personalizing homepages.
Upgrade Forums
Upgrade forums provide campus a way to preview the new navigation options and ask questions. The forums were held on:
Tuesday, January 23, 10-11 a.m., Michigan Union - Kuenzel Room
Thursday, January 25, 2-3 p.m., University Hospital - Ford Auditorium
Wednesday, January 31, 10-11 a.m., Kipke Conference Center - Room 2029
View a recording from the session held on January 31 and the presentation slides.
Known Issues
ITS has identified issues that you may encounter during the stabilization period. ITS is continuing to work as quickly as possible to resolve these issues. A Known Issues web page devoted to these issues will be updated on a regular basis. If you have any questions or concerns, please contact the ITS Service Center.