The University of Michigan is the first university in the nation to upgrade campus buildings to provide WiFi 6E to our community. The new wireless hardware reduces WiFi congestion in areas with a high density of devices by more than doubling the spectrum and channels available for wireless devices to use. This capability is critical to meeting WiFi demand in many of the buildings on campus.
The upgrade will not only give our community the flexibility to work anywhere on campus with a wireless connection, but also allows the university to reduce the number of wired ports and reduce its electronic waste and carbon footprint.
New WiFi technology
The new WiFi 6E technology will deliver the performance required for all devices to access an HD video stream even in densely populated settings, such as classrooms and auditoriums. The increased performance will significantly reduce lag experienced when using real-time applications, including video conferencing and video games. Most devices will no longer need a wired connection after the upgrade. Wired connections are recommended for research computing requiring large bandwidth.
Upgrade experience
The project will upgrade residential buildings as much as possible before the academic year starts, and will continue through the fall term with academic and administrative buildings following. This timeline provides the highest quality service to the largest number of people while also reducing security risks, minimizing university business disruptions, and reducing the total cost of installation.
Each location will typically be upgraded in one day. More information will be shared about outage expectations and other aspects of the upgrade.
Most devices will not need to use an Ethernet cable to connect to the network with the upgraded performance.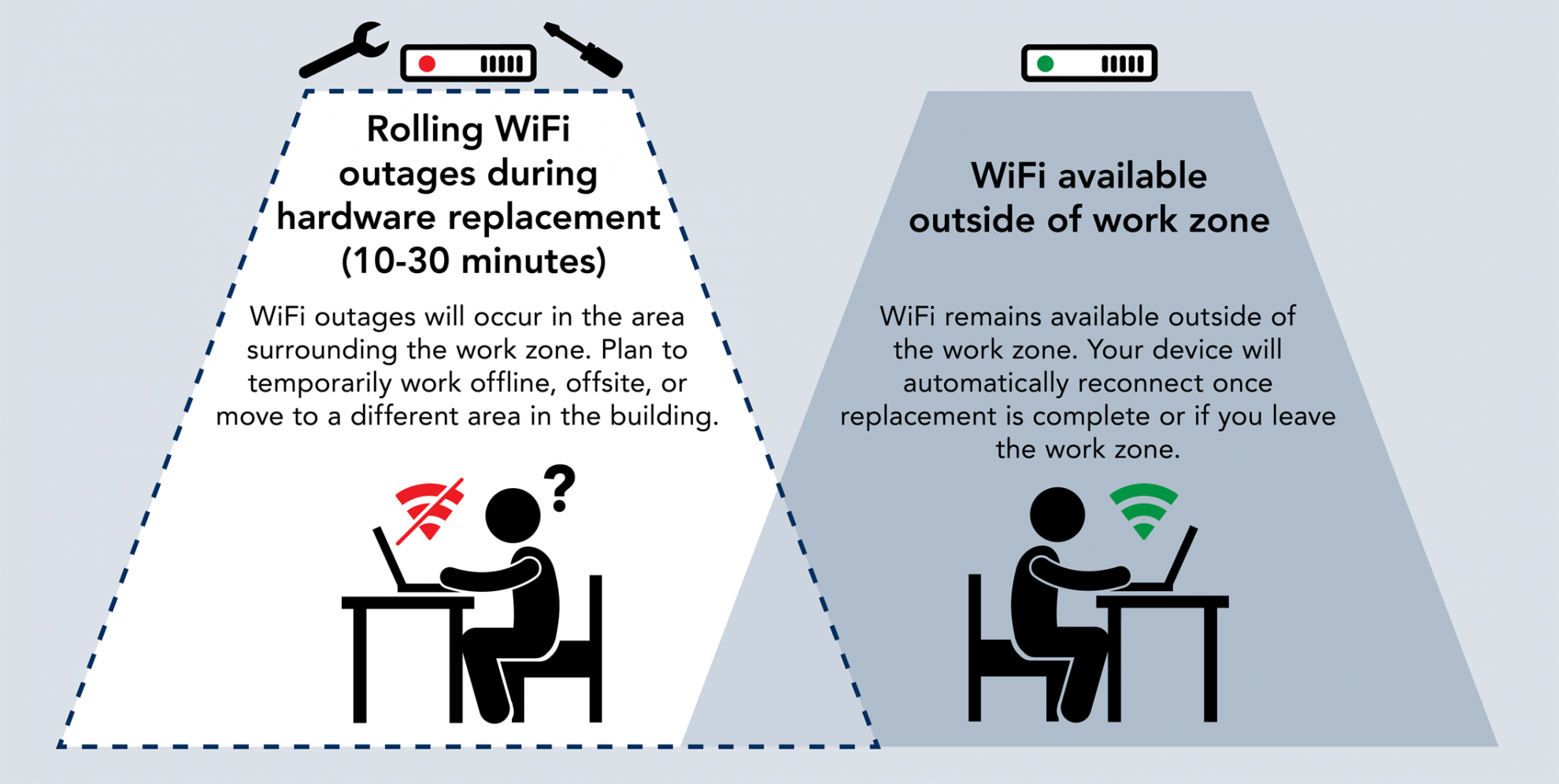 Project Funding
With support from the President's Office, Provost's Office, and other key leaders, ITS secured capital funds to upgrade the UM-Ann Arbor network. UM-Dearborn provided additional funds to upgrade indoor and outdoor WiFi across their campus.
Units will not incur additional costs to upgrade the network in their buildings. Although, the project team will ask for assistance from units when crews are onsite for the pre-site survey, upgrade, and post-site survey. The contractors need an escort to provide access to every room in the building. The project will first schedule upgrades in the buildings that are able to provide this support.
However, if you have questions regarding cosmetics for the WiFi Access Points (APs) in your building, please contact [email protected].
Technical Standard
The technical standard for the WiFi design on this project are:
WiFi protocol

802.11ax in 2.4GHz, 5GHz, and the newly opened space of 6GHz.

General WiFi design criteria

6GHz in a majority of the building
5GHz in a majority of the building
2.4GHz throughout the building
High density deployments in large classrooms and auditoriums
Minimum signal strength of -65 dBm and SNR of 20dbm or better
Enough bandwidth to deliver 1 HD video stream per person

WiFi Security

MWireless — WPA2 Enterprise
eduroam — WPA2 Enterprise
MGuest — none
MSetup — none