There has been a dramatic shift in how — and where — we work since the university's current telephone system was installed in 1984. Failure to our current telephone system could mean losing the platform that supports all campus business, call centers, and emergency calling. Moreover, the pandemic has exemplified the need and direction for this change.
The university's new telephone service will add the ability to make telephone calls from the Zoom application using Zoom Phone, using your existing U-M phone number.
Zoom Phone is a softphone service, which allows you to place and receive calls over the internet via a computer, smartphone, or voice over IP (VoIP)-enabled deskset. This means…
You'll be able to use your U-M telephone number wherever you may be, without the restriction of sitting at a desk with a physical telephone.
You'll no longer need to use or share your personal cell phone number for work purposes. Texting from your U-M number will roll out as part of the service within a year.
This effort will also allow a significant reduction in the number of handsets used across our campus, reducing electronic waste and supporting the university's sustainability goals.
Read additional softphone benefits and features
The U-M Zoom Phone service will be available to the UM-Ann Arbor, UM-Dearborn, and UM-Flint campuses. The scope of this project does not include Michigan Medicine or the Med School.
Project Timeline
ITS is working with Unit Ambassadors from each unit to plan this transition, which will include spending time with each unit to determine where physical desksets are needed, transition any specialized arrangements in the current environment, and determine the proper distribution of physical devices.
In mid-May, we will provide a Telephone Upgrade Request Form to Unit Ambassadors to complete for their unit. We will begin to pull weekly batches of phone numbers submitted through the form to transition to softphones in July, in coordination with each unit. While we will work with agility, the full transition from an on-premise telephone system to a cloud-based service for 28,000 telephone lines on all three U-M campuses may take up to two years.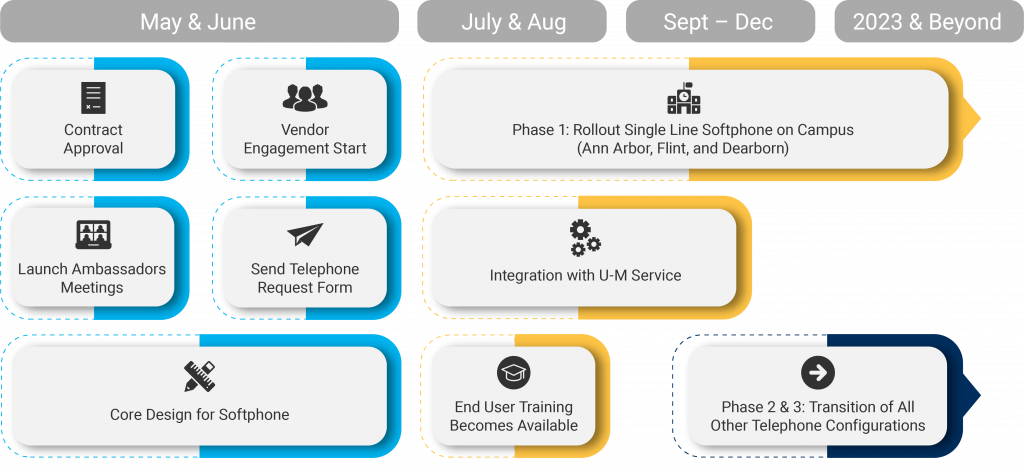 Background
In 2019, ITS proposed a $4.1M capital project approved by Executive Officers to replace the end-of-life, analog telephone system that enables inbound/outbound calls for the campus community. In Fall 2020, ITS sent out a request for proposals for a telephone service upgrade to provide a softphone application for the University of Michigan. The university received positive feedback from two proof of concepts (POC) that helped to determine the technologies needed to meet the university's requirements, which include:
Provide softphone telephone service via laptops, cellular phones, or desksets.
Provide telephone service.
Ensure the availability of connections for emergency telephones.
Avoid investment in on-premise (redundant) equipment.
Transition from a hardware-based service to a software-based solution.
Deliver high-quality conference calls.
Provide a public-facing U-M business number, minimizing the need to share personal cell phone numbers.
Moving to a vendor-based system also allows U-M to minimize back-end infrastructure purchases, reduces the complexity of the current telephone environment, and allows the U-M telephone costs to change as the footprint and adoption change gradually over time.