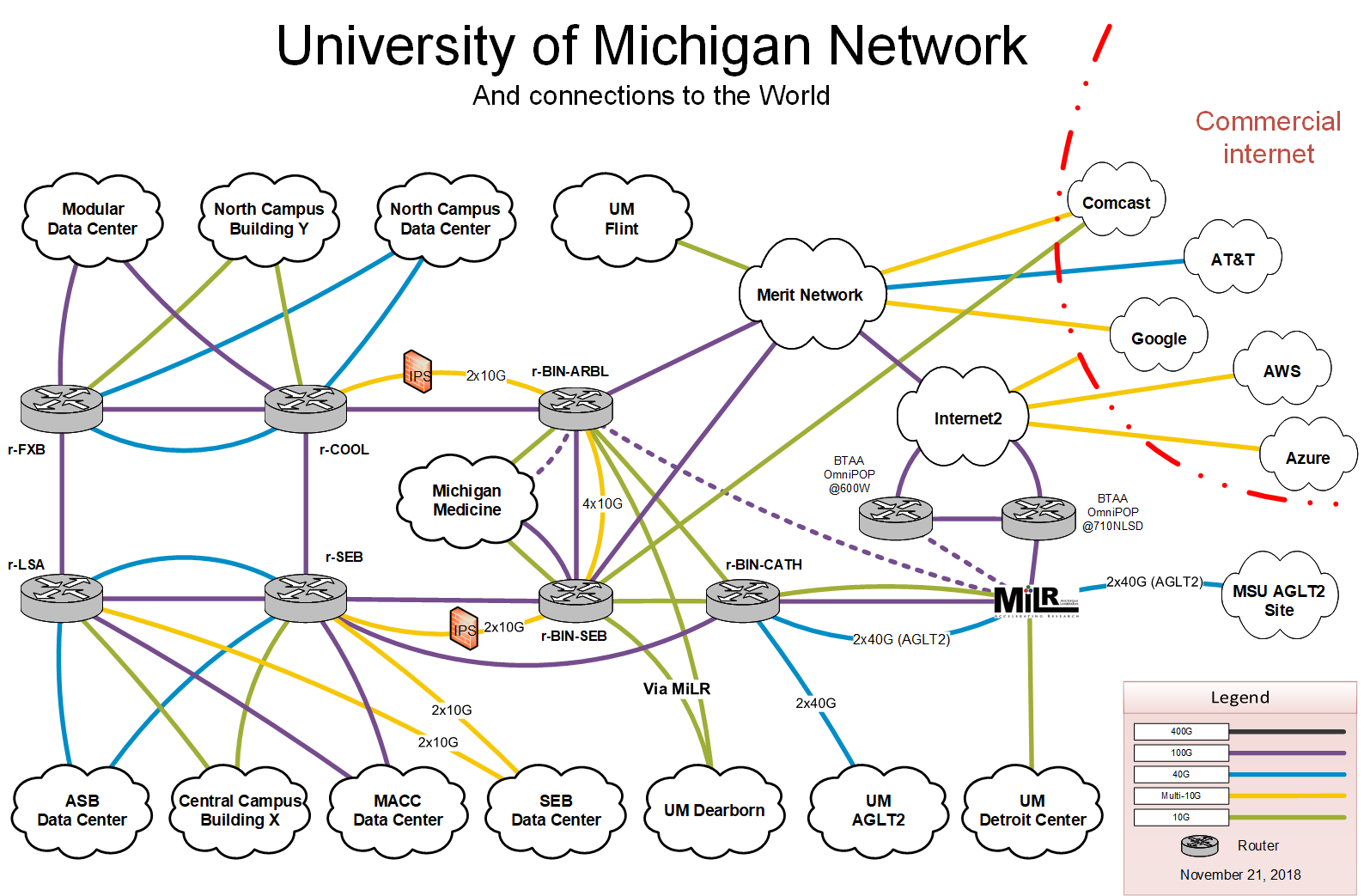 The University of Michigan Campus Network is architected for speed, reliability, capacity, and redundancy to handle both the daily traffic that University of Michigan faculty, staff, and students require and the high speed and bandwidth that campus researchers may need to connect on campus and across the globe. This section provides a visual diagram and written description of the network which may be useful to IT professionals or researchers needing information for grant purposes. Note: High speed 10 or 40 Gigabit per second (Gbps) research connections have been installed on campus that may not be reflected in the general network description listed below.
Wired & Wireless In-Building Connections
The network wired and wireless connections in most campus buildings generally includes:
1 Gigabit per second (Gbps) Ethernet wired connections to telecommunication closets. Note: In some buildings wired connectivity is still running at 10 or 100 Megabits per second (Mbps).
802.11ac WiFi connections which typically provide connectivity between 100-200 Mbps. Note: The WiFi Upgrade Project is currently providing pervasive WiFi in 296 academic, residential, and administrative buildings across campus to improve current coverage and capacity.
One or more telecommunication closets on each floor housing networking switches which are connected into one or more building Distribution Layer Switch(es) (DLS) at 1 Gbps. Note: Some units have elected to connect network switches to DLS(s) at 10 Gbps for higher speed and capacity.
Building Local Area Network (LAN) to Core Connections
The network connections between campus buildings and the core network routers generally includes:
One DLS connected to the core network at 1 or 10 Gbps. Note: Some units have elected to install a second DLS for redundancy.
Each building is connected to two core network locations for redundancy.
Data Center to Core Connections
Campus Data Centers, including the Michigan Academic Computing Center (MACC), Modular Data Center (MDC), School of Education Building (SEB), Administrative Services Building Data Center (ASB), and Arbor Lakes (AL) Data Center network architecture includes:
Multiple 10 Gbps between data center equipment and two DLS to provide redundancy and throughput.
Data center DLS are connected at 100 Gbps connections (MACC, MDC) or multiple 10 Gbps (SEB, ASB, AL) to two core network locations for redundancy.
Intrusion Prevention System
Intrusion Prevention System (HP Tipping Point) equipment is installed between the north and central campus core routers and the University of Michigan Backbone Interconnect Network (UMBIN) connections. This system provides advanced threat detection for suspicious traffic and allows the university to extend protection to its wireless networks. A university Virtual Firewall Service is another network security service available on the Ann Arbor campus which provides uniform and centralized perimeter protection against outside threats. In some cases Virtual Firewall Services have been replaced by IPS equipment. Additional firewalls are located in campus Data Centers to protect specific networks and traffic for equipment located in the Data Centers.
Core Network
The core network connects the central and north campuses together. This network architecture includes:
Four Juniper MX960 routers located in unique locations on north and central campuses. Note: Router locations include School of Education, and the Literature, Science, & the Arts Building on central campus; and Francis Xavier Building and Cooley on North Campus.
100 Gbps interconnectivity between every core router to ensure adequate bandwidth and redundancy.
UMBIN
The UMBIN connects campus to the Internet, state, and national education and research networks. This network architecture includes:
Juniper MX960 routers located at Arbor Lakes, and the School of Education, and one Juniper MX480 router located at Catherine.
100 Gbps connectivity between north and central campus routers and the BIN.
Multiple 10 Gbps connectivity between BIN routers for redundancy.
Redundant 10 Gbps connections between the BIN and Michigan Medicine network to connect them with campus and the Internet. Along with 100G connectivity between the two for researchers.
UMBIN to Internet and Other Campus, State, Education, and Research Connections
UMBIN connections to the Internet, other U-M campuses, state, education, and research connections include the following:
Multiple 10 Gbps connectivity between the Arbor Lakes and School of Education BIN routers and Merit Network. Merit Network is a non-profit, member-owned organization formed in 1966 by public universities in Michigan. They offer affordable network, IT, and cybersecurity services to educational, library, government, healthcare, and other non-profit groups. Merit provides our campus connection to the Internet and the University of Michigan Flint Campus.
Multiple 40 Gbps connectivity between Catherine and Atlas Great Lakes Tier 2 Network (AGLT2). AGLT2 provides connectivity between researchers in the Physics Department within the College of Literature, Science, and the Arts and other Great Lakes institutions with the Large Hadron Collider located at CERN in Geneva, Switzerland.
100 Gbps and multiple 10 Gbps connectivity between Catherine and Michigan LambdaRail (MiLR). MiLR is a high speed data network jointly created by the university, Michigan State University, and Wayne State University. It is managed by Merit Networks. MiLR has fiber optic connectivity between the three campuses and to national and international research and education points.
Multiple 40 Gbps connectivity via MiLR between the university and Michigan State University for AGLT2.
10Gbps connectivity via MiLR between the university and the University of Michigan Detroit Center.
10 Gbps connectivity via MiLR between the university and the University of Michigan Dearborn campus.
100 Gbps connectivity to the Big 10 Academic Alliance OmniPop network. OmniPop is a high speed fiber optic network collaboration connecting Big 10 Alliance Members to one another and worldwide research hubs. The project connects regional networks on collaboratively owned fiber cable in Chicago, providing multiple access points and redundancy.
100 Gbps connectivity between OmniPop and Internet2. Internet2 is a national and international collection of interconnected high performance networks which permit members to interact and create network applications in ways that are not possible on the commodity Internet. Internet2 connects hundreds of member research universities, affiliated organizations, and corporate partners. Note: We have a secondary connection to Internet2 through Merit Networks.