U-M Box Updates
U-M Box November Summary
12/5/2018
Below is the November installment of the U-M Box Monthly Summary:
Previously Communicated:
Box Web App Usability Updates
11/28/2018
Box is making some minor usability improvements on the Web App. These updates will gradually roll out over the coming months. A summary of changes include:
Styling updates on the search page
Tree-based navigation changed to breadcrumb navigation on the Move/Copy pop-up
Metadata within preview sidebar moved from details to its own tab
Action menu moved from file name drop-down to the ellipsis button on the file preview
More options for current folder moved from file name drop-down to its own ellipsis button
See the announcement in Box Product News for a side-by-side comparison of these updates. 
Access Files Offline in Box Drive
11/20/2018
Box introduced Make Available Offline in Box Drive. This new feature enables you to mark any folders you need for offline access and work on the go. Select the folders you want to work with offline and Box Drive will automatically download the latest version to your device. Make any changes you like and the files will automatically get updated on Box once you're back online. To mark a folder for offline access, right-click on it and select Make Available Offline.
Note: 
This feature is not available for individual files, only folders. 
If you don't see this feature, you may need to quit and update Box Drive.
Box is developing a way to upgrade Box Sync to Box Drive on managed (MiWorkspace) computers. When Box Drive is available on MiWorkspace, faculty and staff will receive a notification and instructions on how to upgrade.
 
Box Apps Notification
11/6/2018
Hello,
Box is currently sending notification emails to those who are using older versions of Box Apps (e.g. Box Drive, Box Edit, Box Sync, etc). The older versions are no longer be supported by Box and will no longer work beginning November 12, 2018. These emails are legitimate and if you receive one, please follow the instructions provided to update Box Apps to the current version. Note: If you received one of these emails and have since updated the referenced Box App, no further action is needed. 
Here is a screenshot of the email: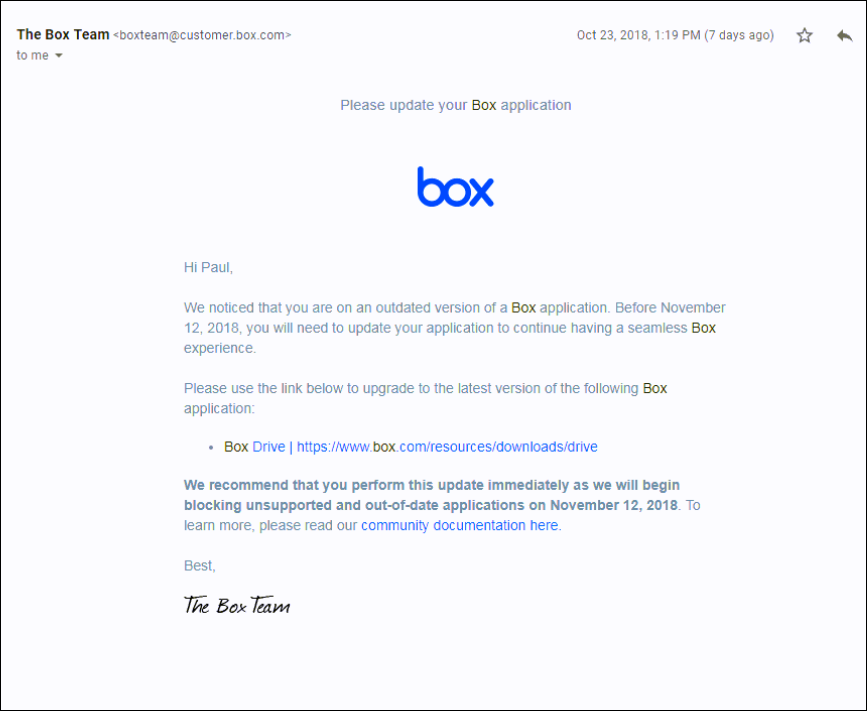 U-M Box July and August Summary
9/7/2018
Hello,
Below are the July and August installments of the U-M Box Monthly Summary:
Preview: Sidebar Design Changes
Transport Layer Security 1.0 no longer supported.

After November 12, 2018:

All Box Tools versions prior to Box Tools v4.1+ for Mac and Windows will not function.
Box will block products and services using the TLS 1.0 encryption protocol.​

WebDAV will not work on or after January 31, 2019.