CTools sites became read-only in September, 2018. Use the information below to consider what steps to take for your sites.
Use the CTools Site Migration Tool
A migration tool has been added to your My Workspace in CTools. Site owners and instructors can use the tool to:
Download content from a course or project site's Resources tool as a .zip file
Download content from a course or project site's Email Archive tool as a text file (.zip) or as an .MBOX file that can be uploaded to Apple Mail or Thunderbird
Copy the membership list from a course or project site
Delete a course or project site
Only sites that you own or are an instructor on display in the migration tool. 
Access the tool when you're ready to begin.
Note: The Site Migration Tool does not work with Internet Explorer.
Before using the tool, review the ownership of your sites
To use the Site Migration tool with a site, you must have the Owner or Instructor role in that site.
When you open the CTools Site Migration Tool, you'll see a list of the sites you own or are an instructor on.
To determine if a site has multiple owners, while you have the migration tool open, click the Members button to the right of the site's name and scroll to the bottom list in the pop-up window. If there are multiple owners or instructors, it's important that you communicate and coordinate any site decisions.
If you need to have the site ownership transferred or have yourself removed from the site, contact the CTools Project Site Migration Team.
Find alternative collaboration services to use with downloaded project site materials
With materials that you download, there are several alternative options for collaboration, communication, and storage.
For help understanding which service(s) best meets your needs, see Alternative Services to CTools or the CTools Sites Alternatives Wizard. If you need additional assistance, please contact the ITS Service Center.
Consider sensitive data
If your site contains sensitive data, review the U-M Sensitive Data Guide to understand what alternative services can be used to store that type of data. 
If you download resources or the email archive yourself, make sure this data is stored in a permissible location.
Access the tool
Log in to CTools. When you have your CTools My Workspace open, you'll see a link to the Site Migration tool in the left-hand navigation.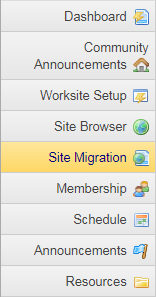 For instructions on using the tool, click the Migration Tool Help button on the right of the Project Site Migration window.

Note:
If your browser window is narrow, you may see a "hamburger" button 

instead.
Have questions?
Migration champions are available to provide assistance in university departments and units.
The ITS Service Center can also provide assistance.