Executive Director, Enterprise Application Services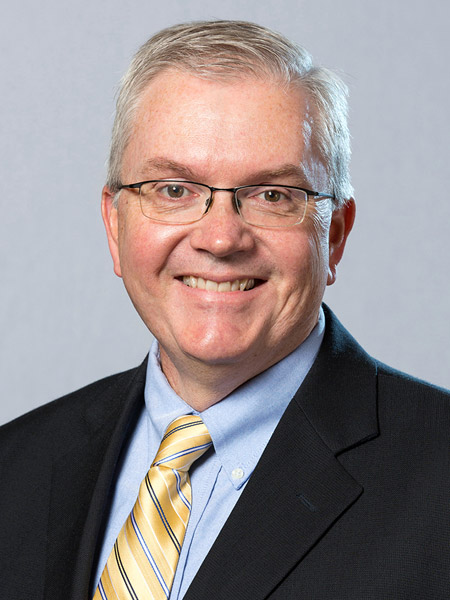 Jim is the Executive Director for Enterprise Application Services and is responsible for U-M's enterprise applications across multiple campuses and the Health System. This includes financial, human resource, research administration, physical resource, student administration, and development/fundraising systems and their delivery to users across all platforms, including web portals and mobile applications.
Jim has held leadership roles in the IT community for 30+ years. Previously, Jim worked at the U-M Medical School as Director of Software Delivery for more than three years. As Director of Software Delivery, Jim was responsible for the delivery of all applications and websites for the medical school IT organization (MSIS). As part of the Medical School CIO leadership team he helped set the direction for IT within the medical school and its 150+ member IT organization. He was responsible for managing the capacity of the organization, delivery of projects, growth, and adoption of the agile Scrum methodology. Prior to this, he held leadership positions in ITS from 2008 to 2012, where his responsibilities spanned architecture, resource pools, methodology, and planning. Jim's former responsibilities included providing strategic direction to the organization and working with his management team to define a process for the effective use of resources (e.g., demand planning and resourcing of projects). He recruited a cohesive and strong management team that re-skilled the workforce with training in Java and Informatica to meet the demands of various projects.
As an innovator in the field of technology, Jim holds three patents for his flowchart-based control system with active diagnostic objects, active debugging objects, and external functions. He holds another patent for a project organization and dissemination system for machine programming and control systems. A leader in IT, Jim attended the U-M Business and Finance Leadership Academy in 2010, the IT Leaders Program through the Committee on Institutional Cooperation in 2012, and Lean Training in 2014 through UMHS.
Jim received a Master of Science in Computer Science and Engineering from U-M in 1992 and a Bachelor of Science in computer science from Central Michigan University in 1981. In his free time, he enjoys spending time with family and friends, Michigan football and going to northern Michigan.