U-M Box Updates
U-M Box June Summary
7/3/2018
Below is the June installment of the U-M Box Monthly Summary:
U-M Box April and May Summary
6/8/2018
Below is the April and May installment of the U-M Box Monthly Summary:
The Export button is now available in Access Stats for a file. Click it to create a folder in Box Reports. 
Coming Soon: Box In-App Notification for New Web App Features
5/15/2018
Hello,
Box will be launching an in-app notification from the '?' icon in the Web App header that informs users about recently released features. This pop-up will inform users about the ability to access and add Favorites directly in the left sidebar. This message will be shown automatically once, but will be available for one week afterward by clicking '?' again. To close the pop-up, click anywhere on the screen.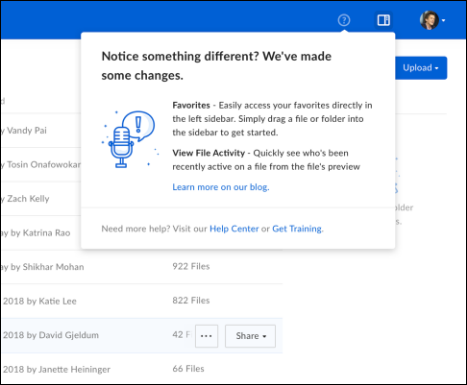 Recent Activity Displayed in Box
4/17/2018
Box is continuously looking for ways to improve collaboration. One way is by adding new activity features to make it easier to see who updated a file and how.
Box
Late last year, Box added the ability to quickly see who's looked at or edited a Box Note recently. This "Presence" feature displays user avatars in the header of Notes. Now Box  brings a similar experience to the Box Web App for all file types. Collaborators, with permission, will see avatars in the header of the Preview page whenever other collaborators have recently previewed, edited, or commented on that file. This change will gradually roll out beginning April 18, 2018 and finish by April 30, 2018. Learn more about this update.
U-M Box March Summary
4/10/2018
Below is the March installment of the U-M Box Monthly Summary: