The Knox Center meets the needs of U-M community members, primarily students, who have questions about modifications or alternatives to standard monitors, keyboards or mice, or who are seeking high-tech tools to help with reading and writing.
Specialized hardware and software is provided at multiple Windows and Macintosh computers, all of which have 21" or larger high-resolution monitors. All workstations also have adjustable-height work surfaces to accommodate wheelchairs or people who wish to stand. One reclining chair is available, and the other chairs are fully adjustable. One workstation has a video magnifier. There is a set of lockers to temporarily store your belongings if you wish; please bring your own lock.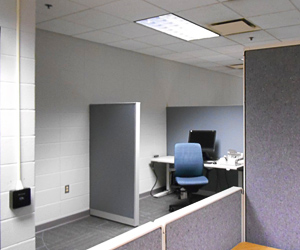 Room 2064A within the Knox Center has three computers with voice recognition software: two Windows machines running Dragon NaturallySpeaking and one Mac running Dragon for Mac. Priority for use of this room will be given first to Knox Center staff who are doing evaluations and second to individuals using the Dragon programs.
The Knox Center is designated as quiet space. We appreciate everyone's help in maintaining this.
Information and Technology Services (ITS) supports the Knox Center as part of Campus Computing Sites.
Contact & Staffing
Staff members Jane Vincent and Brandon Werner are at the Knox Center periodically throughout the week, or by appointment. Any member of the U-M community may request an appointment for an evaluation or to see a demonstration of assistive technology. Contact the Knox Center at Sites.Knox@umich.edu.
Funding
The Services for Students with Disabilities (SSD) office has multiple funding resources to purchase assistive technology for students with disabilities:
For more information, please contact SSD at 763-3000.