U-M Box Updates
Box ending browser support for IE versions 9 and 10
8/11/2016
Box at U-M quarterly stats
8/4/2016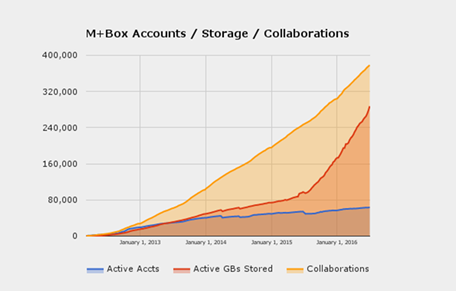 M+Box by the numbers as of July 1, 2016
| Active Accounts | GBs Stored | Collaborations |
| --- | --- | --- |
| 62,309 | 287,594 | 378,265 |
Box at U-M July updates: New Editor improvements and more!
8/3/2016
New! Box Notes Editor improvements are here, including pasting images from the clipboard in Chrome, a strikethrough button added to the inline toolbar, and name changes to font sizes (Title, Subtitle, Body). To access the strikethrough and font features, highlight text and the strikethrough option in the inline toolbar will appear.


Need some help in Box? In-Product educational tours help guide you through new and existing product experiences. Box is currently working on improving and expanding in product education for new and existing users. You will see updates to the content of existing tours as well as new tours in the coming months. Simply click the question mark icon in the bottom left for context sensitive tours. You can click to exit out of the tour at any time.
Michigan IT Symposium call for participation!
7/29/2016
Join us at this year's Michigan IT Symposium. Have you found creative or advanced ways to use Box and Google? Consider participating in the Symposium, to be held November 21-22, 2016. The due date for proposals is August 12. If you are curious to see last year's entries, the Office of the CIO web page has all the posters from 2015.
Check out the new look for the U-M Weblogin page
7/22/2016
The Weblogin page we all use to log in to many U-M websites, including Box and Google, has a new look. This updated page is designed to work consistently across all electronic devices. The new look accompanied the implementation of two-factor authentication.