U-M Box Updates
Introducing the new Box web interface
9/26/2016
Box recently announced a new and improved, more personalized interface on the web. Some of the updates include:
Simplified Layout: The simpler navigation and clearer layout lets you grab your most recently used files with one click and see right away who's accessing and editing content.
Multiple Views: It is easier to switch between views, so you can see your files in the way that works best for you. You can now watch HD and 360 videos from Box without downloading files.
Annotations: Soon you'll be able to make annotations on any file in Box without opening the file or saving changes. You can leave feedback for colleagues and partners by highlighting text so that your team knows exactly what you're referring to.
Additional new features will roll out over time. You can check out the new interface now and if you need to switch back to the previous Box interface, click the help icon at the top of the page. Also from the help icon, provide feedback on your experience directly to Box. The new interface will become the standard in the spring of 2017.
Resources to get started:
Documentation - get tips and tricks for navigating the new interface and learn which browsers are supported
Box University classes - learn about the new interface by joining one of our Box expert's classes
If you have any questions, please contact the ITS Service Center.
Change to the default notifications in Box
9/21/2016
We have heard your feedback on the notifications in U-M Box. By default, Box likes to send email and lots of it. That's about to change. The U-M Box team is going to change the default settings for notifications. Beginning October 1, 2016, the only notifications turned on by default for new accounts will be for when a file or folder is deleted from a folder you own or have joined. For existing accounts, you can still change the types of notifications you receive from Box in your account settings, available in the drop-down menu next to your name at the top of the screen. We hope this change will help to free up your inbox just a bit.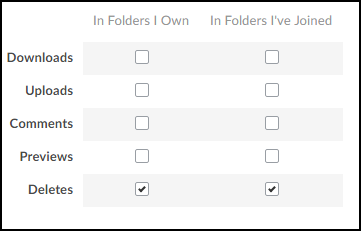 Box Works 2016 and updates to Box
9/19/2016
Lots of exciting news came out of the BoxWorks 2016 conference where CEO Aaron Levie unveiled updates to Box. Highlights of things to look forward to over the next few months include:
An all-new web experience (available soon): A more familiar interface will make using Box from your web browser easier and more intuitive.
A brand new experience for working with Box on your desktop (available 2017): This new tool is easy to manage and use, giving you access to all of the files stored in Box on your desktop without the need to take up space by syncing.
Improvements to Box Notes (available later this year): New ways to collaborate on your latest notes and work more efficiently with Box Notes on your desktop. Use as an Evernote replacement.
Box Relay, a new workflow tool built with IBM (in beta): A tool that enables you to quickly design and launch simple workflows.
Box and Google partnership (just announced): Box and Google are working together on deeper integration with Box and Google's productivity apps and using Google Springboard to find information stored in Google Apps or Box.
Visit the Box Community to learn more about each of these products.
To hear more about these exciting updates, attend the BoxWorks Recap Webinar this Thursday, September 22, at 1 p.m.
U-M Box August updates: New update to Capture and more!
9/9/2016
Update to Capture 1.3. This release includes bug fixes and stability improvements.
Reminder: On September 26, 2016 Box will no longer support Internet Explorer (IE) versions 9 and 10. It is Box policy to support only the latest two browser versions. Microsoft stopped supporting IE browsers 9 and 10 and certain Windows operating systems on January 12, 2016.

Box will notify users on IE 9 and 10 browsers with an in-app banner saying the browser will no longer be supported. After the EOL date, the in-app banner will say that the browser is out of date and the user must upgrade to a supported browser.
Eventually, users trying to access Box on either of the unsupported browsers (including via compatibility mode) will be blocked from Box until they upgrade to a supported browser.
Changes to Box and Google services at U-M
8/12/2016
Changes are taking place with the M+Google and M+Box services. As part of a university effort to more effectively position the institution's brand, M+Google and M+Box are transitioning to new wordmarks. The services should now be referred to as "U-M Google" or "Google at U-M" and "U-M Box" or "Box at U-M".
ITS is working to make sure the transition goes smoothly. When possible, please use the new naming convention and the new wordmarks in referencing these services. Those individuals and teams needing access to the wordmark files can visit the U-M Google and U-M Box Brand webpage.
Expect to read and hear more about the U-M Google and U-M Box service change as information is shared with the university community.